Two tough weekends bring drought to Eagles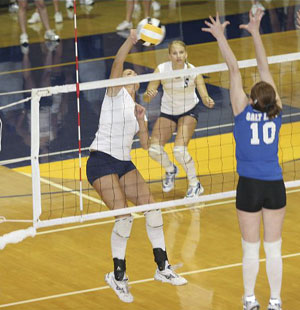 This archived article was written by: Josh Luke
The College of Eastern Utah's volleyball team has had a rough go the last couple of weeks both home and on the road. An anguished head coach Brent Martindale said, "We have been making too many errors to do much of anything, we also just aren't putting up much of a fight."
He added that another major problem is that the team would play well at the first part of the game, and then would just shut down and quit scoring points.
The team started out playing away at Westminster College. This team isn't in the Eagles' conference but play CEU every year for practice. Until this year, the Eagles enjoyed playing them because they had never lost to them. That was until last week.
"We started off every game very well," Coach Martindale said, "but lost our composure and didn't finish off well at all." He added that the team made a lot of errors when they needed something big. CEU lost in four games: 23-30, 24-30, 30-28 and 24-30.
On September 24 CEU played Salt Lake Community College at home. Martindale said that it was easily the worst home loss in eight years. He also said that even though SLCC is a very good team he thought that CEU should have been able to play them much better than they did. Martindale added, "Nobody stepped up at all when we needed it." The scores from this game were: 13-30, 12-30 and 19-30.
CEU was in action again on October 1 at Snow College. ASCEU took a van load of students to Ehpraim to cheer on their team, but the CEU ladies could not come from behind.
Martindale said they got off to a slow start and had a lot of errors in the game. When you add these things together it doesn't shape up to be a very good night. He added that Snow was a good team but that he thought CEU should have played them a lot better. He added that he thought if the team could put things together he thought they could beat this team.
Amy Warburton again led the team in kills along with twins Megan and Melissa Webb who played together very well. The CEU students who went to Snow College that night were disappointed as the Eagles lost in three games. The scores were 17-30, 23-30 and 17-30.
The next night, the team traveled to St. George where they took on Dixie State College, who are nationally ranked. The team started out very well in the first game, they were tied at 23. Then CEU slumped a little and went down 23-30, and almost came back, but lost by three, 27-30.
After loosing that game, CEU lost momentum and struggled in the next two games, losing 14-30 and 16-30. In this contest Warburton led the team in kills, and Brooke Wilson also pitched in with seven kills.
Martindale said that he thought the team could and should be doing much better than they are. He said that the team is young and that they are learning how to play together as they go along.
He said the biggest thing was that they needed to get their confidence level up and he thought they would play better. He also said that he thought that if the team could win a couple of games and get some momentum going that they could hopefully go .500 the rest of the season.
The volleyball team has four more home games. They played Westminster College Wednesday, with the scores unavailable at press time. They host Western Wyoming on saturday in the BDAC.
Next week they have a long road trip where they play against Salt Lake Community College on the thursday, and then they play Northern Idaho on the friday.
After this major road trip the team comes back and plays three out of their last four games at home.