Sign on Wood Hill dedicated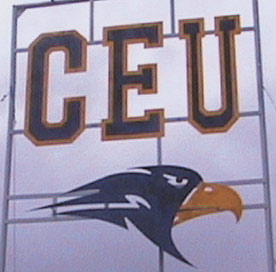 One of ASCEU's goals this year was to erect a CEU sign on Wood Hll. On Monday, their dream became a reality when the sign was officially unveiled with a host of dignitaries, faculty and staff in attendance.
Daniel Wood, student body president, thanked everyone who helped make the dream a reality. He presented plaques to Maurine Dorman for donating property and Gary Sontag, who represented Price city, for donating additional property where the sign is placed; Ryan Thomas for funding the solar lights; David Ariotti for engineering the sign; and the CEU welding deparment who donated hundreds of hours building it. He also thanked the executive council of ASCEU for helping paint the Eagle.
"We've been working on this for almost a year, and it's finally done," Wood said. It's a tribute to a lot of people working together.