Martindale has high hopes for 2005 season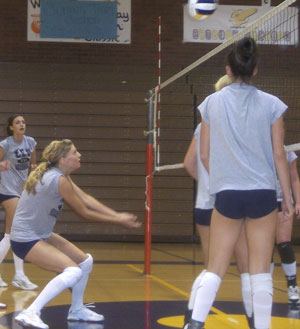 This archived article was written by: Nate Davis
Eagles Volleyball Coach Brent Martindale has high hopes for the upcoming year. "I am very excited about the upcoming season. We have a great group of returning players, as well as a strong group of incoming freshman that rival as good a group of new players as I've ever had. We, as a group, are anxious to prove we can be a strong team in this conference, and are dedicated to winning our first conference championship."
Coach Martindale expects returning players' Brittani Bentley, as well as Megan and Melissa Webb to show good leadership. "Of the newcomers," says Martindale "Ashlie Baker from Northridge High School; Maren Ericson from Nampa High School (near Boise, Idaho); Heather McFarland from Jordan High School and Kelsey Kennedy from Layton High School, could come up big for us this season."
He mentioned Heather Palmer from Mesa, Ari.; Ann Fluckiger Nelson from Logan Utah; and newcomers Courtney Young from the state 3-A championship team of Carbon High School; Hillary Proctor from Skyline High School; Leslie Johnson from Roy High School and Andrea Johnson from Bountiful High School. He said that it is too early to name a starting line up.
He expected the top teams in the Scenic West Athletic Conference to be "College of Southern Idaho and Salt Lake Community College. they are typically the front runners, and this year should be no different. After that, most years we are even with the other teams, and you never know who might come up big.
"I expect this 2005 CEU team to be competitive with most anyone we play this year." Martindale said that "It's difficult to pick just one [game] over the whole schedule. It's always fun to play against the national champions from CSI when they come here. I just want to beat them at home."
Martindale is starting his 11th season as volleyball coach for the lady Eagles. He was born and raised in Sacramento, Calif., went to high school in Reno, Nev., and graduated from the University of Utah in 1991, majoring in exercise and sport science.
"Before I came to CEU, I played club volleyball at Ricks College and the University of Utah. I began college coaching at the U of U and was an assistant/manager there from 1989 to 1992. I was an assistant coach for the Utah Predators of the National Volleyball Association, a women's pro league in 1993-94." Martindale told about his volleyball history.
The Eagles hope to improve upon last year's record of 1 and 9 in conference and 10 and 19 overall. The first game for the Lady Eagles will be Saturday, August 27th at 5 p.m. at the BDAC against the CEU alumni all-stars. They will play two weeks later in the Las Vegas Invitational where 15 teams from around the nation will be playing.
They play in the Santa Ana Invitational starting on September 17 in Santa Ana, Calif. Then they will play North Idaho College on the 22nd, and head to Twin Falls to take on College of Southern Idaho on September 24. Then on the October 7 they return to the BDAC to play Salt Lake Community College. The following night they play Dixie State College at the BDAC as well. CEU takes on Snow College on the 13th in Ephraim. Then return to the BDAC to play the Eagles of Southern Idaho on October 21. They travel to St. George to play Dixie State on the 27 and Salt Lake Community College in Salt Lake on October 29, then return home to play Snow College for the final game of the season on November 3.