CEU enrollment drops despite prediction of increase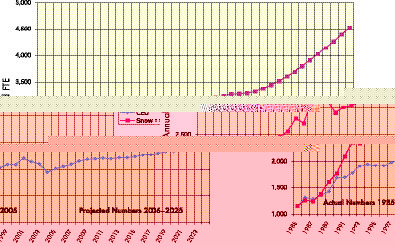 This archived article was written by: Heather Myers
Student enrollment at CEU was originally projected to increase for the 2005-06 academic year. However, after the second week of classes, that increase seems unlikely.
As of day 13, enrollment had declined 9.5 percent, from 2,332 last year to 2,110 this year. The gap between the two years has steadily grown since the start of classes. Over the course of two weeks, headcount has increased by 299 students this year. Over the same period last year, headcount increased by 463 students.
Headcount refers to the total number of students enrolled. However, state statistics, which are used for funding and other projections, use the full-time equivalency, which represents the number of students enrolled in at least 12-credit hours.
FTE is generally lower than the headcount because FTE takes part-time students into consideration. In calculating FTE, two part-time students taking six credit hours each are considered one student. The state uses FTE as an indicator of how much each school is utilized. This, in turn, helps state officials calculate budgets and determine how to allocate resources equitably to each school.
If the trend shown by the headcount in the first two weeks continues, CEU will fall short of projections. Last year's FTE was 1,945, a 7.1 percent decrease from 2003-04. That is the biggest decrease CEU has seen since 1985.
Of the state's nine institutions of higher education, the school most similar to CEU is Snow College. Over the past 20 years, the two schools have had similar-sized student enrollments. Looking at statistical reports, CEU and Snow's numbers are often used to benchmark the other school.
Since 1985, Snow has grown an average of 5.6 percent annually. In the same 20 years, CEU has averaged an annual increase of 3.0 percent. Projections for the next 20 years indicate that Snow will grow at a greater annual rate than CEU. Snow is expected to increase its student enrollment at an average of 2.0 percent annually. CEU is projected to grow an average of 1.3 percent annually over that same period.
CEU's marked decline last year stands out in sharp contrast to the state's other schools. Though many other schools saw a decline, none was as steep as CEU.
The state's largest institution, University of Utah's FTE grew from 27,316 in 2003-04 to 27,433 in 2004-05, an increase of 0.4 percent.
The next-largest school, Utah State University had 19,514 FTE in 2003-04. The Aggies increased FTE by 0.6 percent to 19,632 in 2004-05.
Salt Lake Community College ranked third at the end of 2004-05 at 18,694 FTE. That was an increase of 1.5 percent from the previous year's enrollment of 18,413.
Representative of other schools around the state Utah Valley State College saw a decline of 3.1 percent, 2004-05.
Similarly, Weber State University declined from 16,137 in 2003-04 to 15,840 in 2004-05, a 1.8 percent decline.
Southern Utah University saw the greatest rate of change, increasing 6.7 percent to 6,146 in 2004-05 from 5,759 the previous year.
Leading the two-year state institutions, Dixie State College had an enrollment in 2004-05 of 4,564. The Rebels declined by 0.4 percent from 4,583 in 2003-04.
Snow, with 3,057 in 2004-05, remained larger than CEU. Snow grew 1.4 percent from an enrollment of 3,015 in 2003-04.
The smallest school in the state, CEU fell at a greater rate than any other state institution. Enrollment dropped from 2,094 FTE in 2003-04 to 1,945 in 2004-05, a 7.1 percent decline.
Overall, Utah's state-supported institutions fell 0.1 percent from 115,212 in 2003-04 to 115,116 last year.