Five bike thefts on campus during first four weeks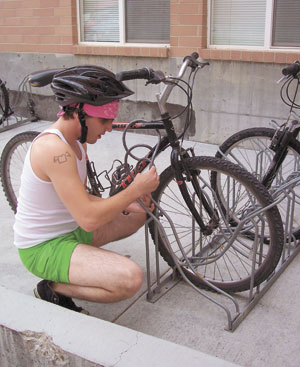 This archived article was written by: Cj Jelsma
Recent bicycle thefts on the College of Eastern Utah's campus have left many students with bikes defenseless against thieves, even while having proper security devices in use.
The week fall semester began in August, many new students moved into CEU's dorms, many of those bringing bikes as their only mode of transportation. Soon after, bikes began being stolen from students on campus.
The first of five bikes to be stolen since the begining of school was taken on Saturday, Aug. 16. The next four were all taken the following Saturday.
The bikes that were stolen from different locations on the campus were all newer models, including Next and Roadmaster brands. These brands are higher cost bikes that can be purchased at Wal-Mart or other retail stores.
Other than the type of security chain used, there are no other common factors in the bike thefts. Four out of five of the bikes used the same kind of security chain.
"Thieves are targeting a specific lock," said James Prettyman, director of public safety for the CEU campus. "The locks appear faulty."
Apparently, the lock being used on the bikes had a manufacturing defect. The lock on the chain has only a few different key patterns that can be interchanged with other locks, making the possibility of finding another lock that uses the same key highly likely. The thief or thieves may be targeting this specific brand of lock as an easy means of bike theft.
The fifth bike that was stolen possibly had a weak security device attached that could have easily been cut with wire cutters if it was not thick enough. Thin cables and chains make bikes that use them easy targets to thieves.
Prettyman said that though there is a chance that the perpetrators will not come back, students should take measures to protect themselves from thefts on campus.
No clues to who has been stealing the bikes have been discovered.
Students can protect their belongings by locking bikes properly with quality locks and chains. Prettyman suggests using a cable or chain that is large enough to deter an easy theft. Chains should be wrapped around the frame of the bike along with the front and back tires and secured with a solid d-ring lock. Most bike seats can also be easily removed, detering most thieves.
Prettyman also suggested that all property in general should be locked up. This included locking doors in dorms and on cars. Pickup trucks should take care not to leave belongings out in the open in the back of trucks where they can be easily stolen.
All students on campus are suggested to watch their own and everyone else's property and watch for any questionable activity if it occurs.
If any questionable activity occurs, it should be reported to the campus police immediately at 613-5612. If any student is facing an emergency situation, students are encouraged to call 911.