CEU Lady Eagles hit ice patch in Idaho
The College of Southern Idaho Eagles put a stop to the CEU lady Eagles winning ways. The lady Eagles dropped two games to the CSI powerhouse, losing both games by a combined total of 47 points. CEU dropped both games losin the first by a score 81-61. They lost the second game 96-69.
CEU came into the game on Friday feeling confident they would perform well against the tough Southern Idaho team. In the end the Eagles could not overcome the 20 point defecit.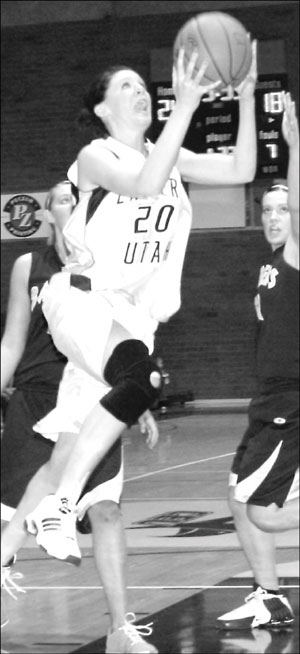 This archived article was written by: Nate Davis
The College of Southern Idaho Eagles put a stop to the CEU lady Eagles winning ways. The lady Eagles dropped two games to the CSI powerhouse, losing both games by a combined total of 47 points. CEU dropped both games losin the first by a score 81-61. They lost the second game 96-69.
CEU came into the game on Friday feeling confident they would perform well against the tough Southern Idaho team. In the end the Eagles could not overcome the 20 point defecit.
During the game the Eagles were defeated by a relentless CSI defense. Coach Dave Paur said "CSI, beat us with a full-court press defense and great shooting." The Eagles were also plagued with mental mistakes committing 40 turnovers. After the game Paur said of the team's performance "I thought we played hard, but so did CSI, what hurt us the most was our failure to attack their press.
The following day the Eagles once again faced off against CSI hoping to extract some revenge. CEU was unable to manage a victory, losing by a score of 96-69. Even tough the ladies lost by 27 points,coach Paur saw improvement in his team, saying, "I thought we improved in the second game on Saturday. It was only then that we attacked their press, and once we attacked their press our shooting percentage went up."
On Saturday the lady Eagles finished the game with a shooting average of 46 percent, nearly doubling the 27 percent they put up on Friday night.
The Eagles had many stand out performances over the weekend including Krislyn Wallace who scored 11 points on Friday and put up 19 on Saturday. Recently married, Jana Sorenson, and Elisha Harris also scored in double figures.
The Eagles return to action this weekend when they play begin a four-game home stand, taking on Colorado Northwestern on Friday, February 3 at the BDAC. Tip off is at 5:30 pm. The following night tip off is also at 5:30 pm.
Coach Paur is confident that the team will win both games agains CNCC this weekend saying "We this year."