Men's basketball wins 2 at home and loses 2 on the road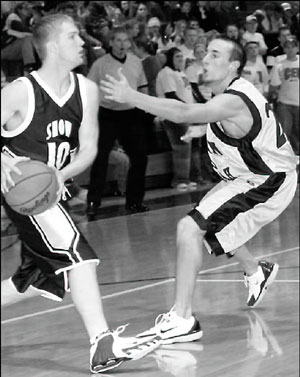 This archived article was written by: Robert Hanson
In sports there are times when a team achieves victory, while other times that same team may fail in the quest for a win. This being said, CEU walked all over a couple of All-Star teams and had a losing struggle with the league-leading College of Southern Idaho recently.
The action started January 19, as the Golden Eagles welcomed the Salt Lake Metro All-Star team into the confines of the BDAC.
The welcome was short lived as CEU pounded the All-Stars, 102-73. CEU was led by Tylar Kepkay, scoring 16 points, as well as Belford Williams who attacked under the rim bringing down seven rebounds for his team.
The next night, the Southern Utah All-Star team made their way into the BDAC to see how they would fare against the Eagles. Mike McCrary made sure this new All-Star team shared the same shameful fate as the Salt Lake All-Stars, rumbling up and down the court scoring a tremendous 21 points and grabbing five rebounds, CEU's Golden Eagles defeated the Southern Utah team 122-98. Disgracing these teams, as CEU did, is no easy task.
Describing the talent of the All-Star teams, Coach Bryan Zollinger talked about the opposing players, "most of them played in our league and were all-league players, and played for division one schools."
A week later, the CEU hoops squad made a long trip to Twin Falls, Idaho for a second meeting with the conference-leading CSI Golden Eagles. John Rogers lead the CEU infantry tossing up 16 points with Tyler Billings bringing down 13 rebounds, which Coach Zollinger described as, "exceptional."
In the end, CEU had been both out shot due to the relentless CSI defense, causing CEU to miss some shots that usually would have been easily thrown down. Also CSI's aggression under the basket hurt CEU, as Zollinger mentioned, "CSI is a strong rebounding team." But, according to the coach, "The biggest thing of all, we had 23 turn overs which is high for us." The score being CEU 65 and CSI 81.
Once again the next night CEU took to the court in an attempt to pit revenge on the mighty team of CSI. "We reduced our turn overs, so I was happy with that, but we didn't shoot the ball well from the free-throw line, which has been uncharacteristic of us," Zollinger said.
Williams, "had one of his best games of the year," Zollinger added. He scored 15 points towards a valiant CEU stand against the dangerous Golden Eagles of CSI. But, once again CEU fell at the hands of CSI, 71-84.
About the men's basketball program, Zollinger said, "I know there's some stuff going around campus about mediocrity and all that kind of stuff. But I think it's one of those thing where everyone gets painted with the same brush." The reality is, the men's basketball team is sitting at a 13-7 record so far this season.
According to the coach, "16 wins will insure us of having a winning season, which would be our fifth-straight winning season." Plus he went on to make the prediction of ending the season with "somewhere between 19 and 21 wins"
Therefore Zollinger feels, "It would be a little unfair to categorize the team as is been done, that we're not capable of winning. When in fact we're about to secure our fifth-winning season in a row. If there's another program that's not, I don't want them to be lumped in with us."
He also said, "I would be glad to compare graduation rates, or the team GPA this last semester which was 3.2. If you would like access to that information I have it. By most of the standards that you would judge, from graduation rate to GPA, whether or not you have a winning season or not, I certainly don't think that the work level that our players put into it or our coaching staff puts into it, is mediocre."
While Zollinger is, "resentful" of this stereotyping on athletic programs at CEU, he doesn't hesitate to say, "we've got good guys in our program, a lot of good kids." He also stated, "I've heard people say they wish we had more Utah kids, but we've got like eight of our 12 guys are from Utah. It"s frustrating that there is always something, it seems like, that"s frustrating to me."
Next up the CEU Golden Eagles will be hosting the Colorado Northwestern Community College Spartans on Friday, February 3, as well as the following Saturday, February 4, at 7:30 p.m. both nights.