Lady Eagles sweep Snow, lose to Cardinals
The CEU lady Eagles took flight from the safety of the BDAC, when they left on a two-week road trip, where they took on the Snow College Badgers, and the North Idaho College Cardinals. The Eagles completed a season sweep of the rival Badgers winning both games, 81-62 and 72-71. The Eagles then went on to drop both games to NIC losing 62-46, and 72-90.
The Eagles easily handed the Badgers a 19 point loss on Friday night, with top scoring performances coming from Elisha Harris, who dumped in 14 points, and Kaylynn Fager knocked in 13.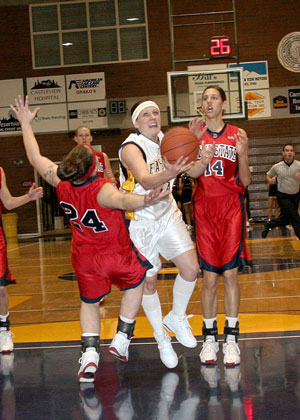 This archived article was written by: Nate Davis
The CEU lady Eagles took flight from the safety of the BDAC, when they left on a two-week road trip, where they took on the Snow College Badgers, and the North Idaho College Cardinals. The Eagles completed a season sweep of the rival Badgers winning both games, 81-62 and 72-71. The Eagles then went on to drop both games to NIC losing 62-46, and 72-90.
The Eagles easily handed the Badgers a 19 point loss on Friday night, with top scoring performances coming from Elisha Harris, who dumped in 14 points, and Kaylynn Fager knocked in 13.
The Eagles came into the next game with brooms in hand, in hopes of completing a sweep. It was a close game, and ended up coming down to the final seconds of the game. Fager once again led the team in scoring dropping in 15 points. Fager was tied in scoring with Jana Glover. Glover was in the words of Stuart Scott cool as the other side of the pillow, hitting two clutch free throws to seal the game for the Eagles.
After the big wins against Snow, the Eagles headed north to take on the NIC Cardinals. The Eagles hoped to prolong their winning streak, but were unable to do so. Losing both games to the impressive NIC team. NIC struggled in the game only shooting 23 percent from the field. The Eagles, struggled more, shooting a measly 20 percent, and only converting on four-of seven -foul shots.
The Eagles returned the following night to try to steal a win. They shot better but were out classed by the slick NIC team. In this game. Coach Dave Paur said "On Saturday NIC shot 46% from field the and also hit eight three's. We also shot better but it wasn't enough." The Eagles will return to the nest on Friday night when they take on the always formidable Salt Lake Community College Bruins. Paur said about SLCC
"[Their] a good shooting team, to beat them we have to shoot like we did against Snow."
After the game against SLCC, the regular season will be over for the lady Eagles, they will travel back to North Idaho for the region tournament "The region tournament is next week, so we will have to make the long trip back to North Idaho, we will play Dixie next Wednesday at 4 pm."