ASCEU Executive Board Announced
The 2006-2007 College of Eastern Utah ASCEU Executive Board were announced last Friday at the Election Stomp.  
Colby Majors was voted as president, Aaron Hales as executive vice president, Ashlie Baker as activities vice president, Jessica Holdaway as I.C.C. vice president and Ryan Everett as vice president of senate.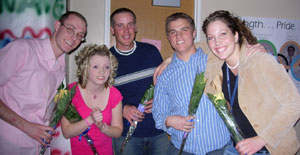 This archived article was written by: Maren King
The 2006-2007 College of Eastern Utah ASCEU Executive Board were announced last Friday at the Election Stomp.  
Colby Majors was voted as president, Aaron Hales as executive vice president, Ashlie Baker as activities vice president, Jessica Holdaway as I.C.C. vice president and Ryan Everett as vice president of senate.
Majors is from Huntington, Utah and is a sophomore at CEU.   He wants to "meet the students, and faculty/staff on campus, and work with them to make our school a better place for learning and taking opportunities to make a difference."   He wants to become friends with the students and take all of their ideas and concerns to heart.  
Aaron Hales, a sophomore from Henderson, Nev., says he is "committed to helping students of CEU gain the best education possible."   His goal is to make sure that every student, including traditional, non-traditional, and multi-cultural students, receives the best opportunities for education while here at CEU.
Ashlie Baker is  freshman from East Layton, Utah.   "I know I would do well as VP of activities because I am a change for the better.   I feel I could help in finding new ideas for … bringing the student body together.  She  also says that she knows the students needs and could "totally better the school."
Jessica Holdaway is  a sophomore from Price.   She has been involved in many clubs and leadership positions  in the past and feels that she has a vision for the clubs here at CEU.   She says, "I was people to get a sense of pride in their school." Holdaway also wants the faculty to become more involved in clubs.
Ryan Everett is a freshman from Brigham City, Utah.   Everett feels that he is qualified for the position because of the opportunity he will gives students to have a voice in the schools government.   "I want each department to be represented for their issues to be discussed and resolved."