Five students qualify for Skills USA nationals in Kansas City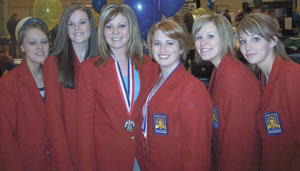 Five College of Eastern Utah students placed first in the Skills USA competition hosted in Salt Lake City recently, thus qualifying them to attend nationals in Kansas City later this summer. In cosmetology, Katie Young placed first in prepared speech and Kaylynn Cornett in job interview; in welding, Jeremiah Garcia; and automotive, Garrett Harrison in automotive technology and Joseph Stout in job skill demonstration. CEU has placed first in the welding category five of the past six years.
Eighteen students from CEU placed in the top three of their respective categories. Earning second place in cosmetology was Caitlin Thomas, in customer service; and the team of Rebecca Curtis, Patricia Crittenden, Elizabeth Gurling, Erica Jenson, Cassidy Morley, April Olsen and Chaliese Williams, in opening/closing ceremonies. Third place finishers included Janeal Harris, cosmetology; Jill Durrant, nail care; and Chanel Giles, customer service.
Earning second place in automotive was Stephen Faxon, customer service; and Jordon Strate, job skill demonstration. Carbon High School students placed in the top 10 in the Ford/AAA contest.
The CEU faculty who trained these students also deserve a great deal of credit for their success. Faculty over cosmetology, welding and automotive include: Debbie Prichard, Linda Davis, Lon Youngberg, Mike Tryon, Stan Martineau, Stanley Willson and adjuncts who helped them achieve their success, said Russell Goodrich, dean of professional, career and technical division.