Hebdon follows family of volunteers; Mair thinks volunteering is essential
This week the SUN Center's service spotlight shines on Tom Hebdon and Amanda Mair.
Tom Hebdon
 Hebdon is the SUN Center president, and hails from Paradise, Utah.   Paradise is a small town just over the hill from Eden, down the road from Providence, and south of Logan.   "It is a place where there are more cows than people," he quips.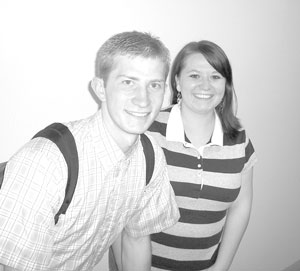 This archived article was written by: Amanda Mair
This week the SUN Center's service spotlight shines on Tom Hebdon and Amanda Mair.
Tom Hebdon
 Hebdon is the SUN Center president, and hails from Paradise, Utah.   Paradise is a small town just over the hill from Eden, down the road from Providence, and south of Logan.   "It is a place where there are more cows than people," he quips.
This is Hebdon's second year at CEU and second year involved with the SUN Center.   He got his first taste of the life in SUN service through his older brothers who attended CEU.   "I saw the impact that service had on them, as well as those they served.   I saw the good that they were doing, and I had to be a part of that."  
After Hebdon's first year at CEU, he took a two-year break and served a LDS mission in the Italy, Rome mission.   It was a time when he learned even more about service.
Of SUN Center service, he says, "One of the biggest impacts we have is to change the community through service opportunities.   We grow intellectually, but we also develop character and improve relationships within the community."
Hebdon hopes that he can continue the tradition of service in the SUN Center.   He hopes to get the students and community more involved and serving each other.
Outside of service, he enjoys playing volleyball, soccer and golfing (but only if he can have a cart).   He is a fine connoisseur of ice cream and is very fond of Coldstone's Birthday Cake Remix.
Amanda Mair
Amanda Mair is the vice president over the SUN Center's public relations and comes to CEU from Grantsville, Utah.   Grantsville is a small, one-horse town west of Salt Lake City.
This is Mair's second year at CEU, and her second semester with the SUN Center.   In high school Amanda was involved with many service clubs and wanted to continue that tradition when she came to college.   "For me service is an essential part of life, just like breathing.   I don't feel right unless I am serving."
This year Mair will be working with the Castle Valley Center and is excited to get involved.   "The Castle Valley Center is a wonderful place that does so much good.   Every person that enters the doors leaves with a sense of fulfillment that cannot be duplicated."