Volleyball still looking for an elusive win
The Lady Eagles are struggling to find their first conference victory as they dropped games to North Idaho, College of Southern Idaho and Salt Lake Community College the past three weeks.
North Idaho College
The CEU Lady Eagles hosted the NIC Lady Cardinals  in conference play September 29-30. At the time NIC was ranked second in the nation, and it's a position they currently hold.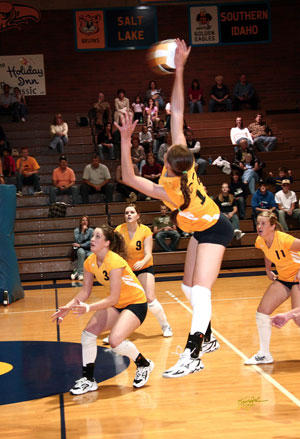 This archived article was written by: Scott Frederick
The Lady Eagles are struggling to find their first conference victory as they dropped games to North Idaho, College of Southern Idaho and Salt Lake Community College the past three weeks.
North Idaho College
The CEU Lady Eagles hosted the NIC Lady Cardinals  in conference play September 29-30. At the time NIC was ranked second in the nation, and it's a position they currently hold.
According to Coach Brent Martindale "NIC is very strong and very deep." It showed in the score of the first game on Friday night with NIC winning easily 30-11. CEU lost the match in three games but got better with each successive game. They lost the second game 30-19, and the last game by six points, with a final score of 30-24.
On defense the Lady Cardinals put up some awesome numbers, six of their women having multiple-block assists with two getting four apiece.
On offense, the Lady Cardinals were solid, with two of their players getting 10 kills each, two with nine each, and one with eight kills.
CEU's Ashlie Baker and Jamie King had two-block assists each with King getting one-solo block. No one on the NIC squad had a solo block.
The teams' had nearly identical kill attempt numbers. The Lady Cardinals had 105 attempts and the Lady Eagles 106 attempts. However the Cardinals were successful in 51 of their attempts, while the Lady Eagles only had 22 successful kills.
There were bright spots for CEU in the kill column however. Karina Rocha led the team with eight kills and led all scorers in kill attempts with 33. The nearest anyone came to that number was 25 kill attempts by Cintia Alessi of NIC.
The Lady Eagles' Maren Ericson had five kills, King had four, Baker had three, and Heather McFarland had two kills. McFarland also led everyone on the floor in the assist attempt column with 80. 16 of them were successful. Also, Kindra Romney, Rocha and Heather each had an ace.
In the second match with the NIC Cardinals on Saturday night, the Lady Eagles made it much more of a contest. As a team they nearly doubled their kills from the night before, going from 22 total kills Friday night to 38 kills Saturday night. This night it was Ericson stepping up for 10 kills. With plenty of help from her teammates Rocha, and King who each had eight kills. Five kills each came from Baker and Jennie Rudder, McFarland had two kills. Rudder had an awesome kill percentage with five of her six kill attempts scoring.
The Lady Eagles also stepped up their defense, scoring more total team blocks than the Lady Cardinals. McFarland was the assist leader again on this night with 22, but with a lot of help coming from her teammate Romney who had 10.
Although the Lady Eagles stepped up their game significantly Saturday night, in the end the Lady Cardinals were just too powerful and defeated CEU in three straight games: 30-21, 30-20 and 30-26.
College of Southern Idaho
On Friday October 6, the CEU Lady Eagles were in Twin Falls, Idaho, to face the CSI Lady Golden Eagles.
Although ineligible for post-season play this year, due to recruiting violations, the reigning national champ Golden Eagles put on a clinic. Even though the game scores seem to indicate CSI dominated the match, Martindale was proud of his team for putting a lot of effort into the games and not giving up.
Slovakian import, and conference leading killer, Ivana Bramborova smacked down 13 kills in 24 attempts. Fifty percent of the time she got a shot at the ball, she scored. CEU's Rocha had an awesome 12 kills out of 37 attempts on this night. Also getting kills were Baker with eight, King and Ericson with six each, Rudder with two and Emily Doxey with one.
CEU couldn't seem to come up with an answer for CSI's powerful serving. CSI had 12 aces, four of them coming from Chanelle Estaban alone. CSI won the match in three straight: 30-22, 30-22 and 30-17.
The second night of play between CSI and CEU on Saturday night didn't show the usual improvement by the Lady Eagles. They lost this match in three straight: 30-16, 30-23 and 30-19.
CSI spread out the scoring attack and had three ladies with double-digit kill numbers. Bramborova had 13, Gabriela Bolawczyk had 12 and Jacqueline Fotu had 11. Those three players combined, had more kills than the entire CEU team.
Again the serving by CSI was awesome. Just like the night before, they had12 aces, with six of them coming from Bramborova alone. CEU had a good balanced effort with most of the team making a contribution.
On offense it was Rocha leading the attack with nine kills. Six kills went to Ericson, with McFarland and King getting five apiece. Fowler, Rudder and Baker also scored three kills.
The potent CSI offense never gave the usually solid CEU defense a chance. The Lady Eagles seemed to be back on their heels and unable to find an answer for CSI's offensive weapons.
Anyway, the Lady Eagles played tough and didn't give up but were just overpowered by an incredible CSI team.
Salt Lake Community College
The CEU Lady Eagles must have felt grateful to be on their home floor at the BDAC October 13.
With a friendly, albeit subdued crowd of maybe 200 looking on, the Lady Eagles roared to a first game win, 30-19 over the No. 14 ranked SLCC Lady Bruins. And all this with Rocha sitting on the bench, her knee wrapped in ice.
The Bruins looked confused as balls dropped to the floor on their side of the net without anyone even getting so much as a hand on them and with CEU pounding down kill after kill.
When the Lady Eagles reached game point, Martindale exhorted the crowd to their feet. No one saw him, and the crowd remained seated and quiet, as CEU won the first game.
However, the Lady Bruins didn't let their loss of that first game get them down. They quietly and confidently climbed right back into the driver's seat and handed CEU three loses in a row.
The Bruins offensive attack was strong with three players scoring in double digits. Talita Santos and Tela Burnett each had 11 kills, with Cinthia Silva adding 10 more.
For CEU it was the Ericson show. She had 16 kills to lead all scorers and was also alive on defense with 10 digs.
Solid offensive contributions came from King with nine kills, McFarland with seven, Fowler with six, Baker with five and Rudder with three. Defensively, in addition to Ericsons effort,   Doxey had 11 digs, McFarlane and Courtney Young each had eight, King had five, Rudder had three and Meesha Rasmussen had two.
Unfortunately, CEU wasn't able to maintain the momentum of winning the first game of the night, and dropped the next three games 20-30, 25-30, and 19-30.
On Saturday night the CEU Lady Eagles took on the Bruins in the BDAC to close their home season and had the same result as the night before.
The Lady Bruins were not in any mood to let the Eagles get a win in the first game as they did the previous night. The Bruins came out smokin' and easily won the first two games 30-11, and 30-16.
And then with their backs against the wall and facing a three-game sweep, the Lady Eagles dug down, and won the third game, 26-30. But like the previous night, CEU had trouble capitalizing on their momentum and lost the fourth game and the match, 30-15. Just like on Friday, the Bruins had three ladies scoring in double digits. Kris Hymas led all scorers with 12 kills. Not far behind her, Talita Santos and Tela Burnette each had ten.
The lady Eagles spread out the scoring attack with nearly every member of the team making a contribution. King led the team with nine kills and right after her with eight kills was McFarland. Rounding out the offense was Ericson with seven kills, Fowler with six, Rudder with five, Rocha (who was not at 100 percent and is still suffering with a sore knee) with four, Baker with three and Doxey with one. McFarlane did most of the setting, with some good help from Romney.
Defensively the Eagles also had a balanced effort with the team getting in on blocks and digs. Coach Martindale did a good job getting Fowler to the middle of the net for several key blocks.
I n the end it was the Bruins clamping down defensively and not letting the Eagles gain any momentum. With 13 team blocks, more than double the Eagles six teams blocks, the Bruins were able to hang on and get the victory.
On Thursday October 26 the Eagles are in Salt Lake City, to face the Bruins of SLCC.