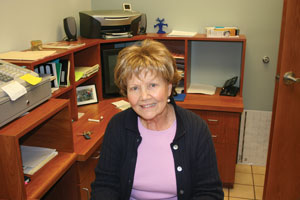 This archived article was written by: Angela Oliver & Zak Konakis
A valued member of College of Eastern Utah's staff will be retiring from full-time employment on Dec. 16. After almost 30 years of working as the cosmetology department's receptionist, Ursula Beckman is looking forward to finally taking a break, and only working 19 hours a week.
Hailing from Germany, Beckman and her husband moved to the United States in 1957. They first lived in Manhattan, Kansas where her husband was drafted to the 1st division Army. They later moved to La Crescenta, California. They bought some property south of Price, and would come out during the summers and work on the house, and she said, "one year we just stayed."
With all her spare time, Beckman is looking forward to spending more time with her family. Beckman has two sons. Her oldest son Roger lives with his family in San Diego, and has a veterinarian service there. Beckman's younger son Marty lives in Price, and owns Grogg's Restaurant and Bar. Some other things Beckman is looking forward to having time for are catching up around the house, gardening, traveling and just enjoying having free time. Beckman said that she would like to be remembered as "being dependable … I love my clients and the students … I get along with everyone, I don't have favorites."
Beckman has been a long time asset to CEU's cosmetology department. Linda Davis said, "Ursula had been an asset to our department, she's more then just a receptionist, she's been great in the department and with the students. She'll be really hard to replace."
Beckman has seen many changes in the years since she's worked there. One of the biggest changes she's witnessed is the switch from doing everything by hand, to using computers. When they decided to make the change, Beckman took computer classes so she could learn Lotus and the Windows programs so that she could smoothly make the transition.
Another big change that she was a part of is when the cosmetology changed buildings. She said " the cosmetology department used to be in the Old Career Center, where the art department is now. It was upstairs, so it was hard for clients in wheelchairs to get up there with the elevator on the other side of the building, so being on ground level was a good change. It made us more accessible … [also] in the Old Career Center we only had room for 15 students, and now we have room for 60 students." She also said that she has seen many good changes in the buildings on campus and that CEU is a great asset for Price.