Administrative assistant plans retirement after serving CEU for eighteen years
As the College of Eastern Utah gets ready to say farewell to long-time employee Judy Bartholomew, administrative assistant to President Ryan Thomas, plans are being made for retirement while she reminisces about her experiences at the college.
Bartholomew talks about her life before being employed at CEU. "I graduated high school in Minneola, Kansas, a small town in the Southwest part of state.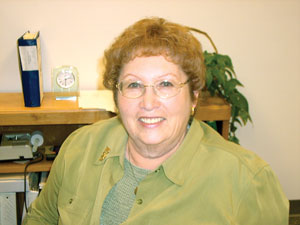 This archived article was written by: Lindsey Sweat
As the College of Eastern Utah gets ready to say farewell to long-time employee Judy Bartholomew, administrative assistant to President Ryan Thomas, plans are being made for retirement while she reminisces about her experiences at the college.
Bartholomew talks about her life before being employed at CEU. "I graduated high school in Minneola, Kansas, a small town in the Southwest part of state.
My husband, Larry and I moved to Utah in 1979 after he was promoted in the cable company where he worked. At that time I was working as a legal secretary in Dodge City, Kansas." She tells of her experiences after moving to Price, "I got very lucky and worked as a legal secretary for Attorney Stan Litizzette in Helper. When Stan retired, I applied for a position here at the college in 1989. My job at the college in September 1989 began with Richard Robinson, applied technology education and Leonard Miller, personnel and continuing education director. I kept busy with those two characters, but it was fun."
Bartholomew was then given the opportunity to become the administrative assistant to CEU's new president Grace Sawyer Jones, the first woman president at a public college and the first African American president in Utah.
She recalls the experience, "In 1996, President Jones came on board as president of the college. She approached me in 1997 and requested that I become her administrative assistant. Jones was very interesting to work with, we had some great times and some low times at the college during her tenure, but it was never dull."
July 2001 brought change to the college when President Thomas took his position as the new president of CEU. Bartholomew, continuing in her position as administrative assistant to the president, expresses, "President Thomas inherited a lot of problems that he has worked through for the college to get it back on its feet.
We have progressed tremendously and there are a lot of wonderful projects ahead for the college. Having 20 years of legal secretarial experience has paid off during my time with President Thomas. I will certainly be following the progress of the college during my retirement."
President Thomas recalls his experience working with Bartholomew, "Judy has always been unflappable no matter what the pressure. I have many memories of her calming angry callers or visitors with her even demeanor. She is also a person with a great capacity for fun. She is an avid fisherman and ATV rider. She and her husband are also rock hounds, and she takes delight in finding interesting rock specimens. The overreaching characteristic about Judy that I will remember is her kindness. Everyone is happier for the opportunity of being with Judy because she treats everyone as an old and trusted friend."
After working at CEU for 18 years Bartholomew describes her plans for retirement, "My husband and I plan to travel in our motor home, with our dogs, to places around this beautiful country.
There are many places that we want to visit while we still have our health. We love to hunt for rocks and semi-precious stones for jewelry. Our first trip will probably be either to Arkansas to look for diamonds or Nevada to hunt for opals. We plan on staying south in the winter and north in the summer, but our home will always be in Price."
"My memories of the college will be treasured," Bartholomew says, "but since confidentiality of the office is a main function of the jobs that I have held, I will hold them close to my heart."