Bootcamp for college newspaper students
   Members of The Eagle staff attended their first college bootcamp taught by professors and professionals the weekend of Sept. 28-29 at Utah Valley State College.
   The seminar started with "What is news?" taught by Jim Fisher, University of Utah professor and Chronicle advisor.   This section was aimed to distinguishing between news, features and editorials.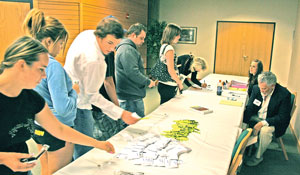 This archived article was written by: Jaimie Scoville
   Members of The Eagle staff attended their first college bootcamp taught by professors and professionals the weekend of Sept. 28-29 at Utah Valley State College.
   The seminar started with "What is news?" taught by Jim Fisher, University of Utah professor and Chronicle advisor.   This section was aimed to distinguishing between news, features and editorials.  
The next session was taught by Allison Barlow Hess, advisor of Weber State University's Signpost, on "interviewing techniques."   Then a panel ended the night with discussions on what each learned their first year as a journalist.
The next day, the seminar started with "leads and getting started" with Fisher teaching about the different types of leads and how to bridge from the lead into the rest of the story with Joel Campbell of Brigham Young University teaching "Using Public Records in Reporting." An expert in the field, he provided advice to getting information on college campuses. "Story Forms" was discussed by Hess while others learned about "Improving Layout and Design: Some Principles".
The third session was "First Hurdles" taught by Jay Wamsley, the Utah State University Statesman adviser.   He spoke about the many struggles that a beginning journalist has, such as knowing how to keep themselves out of their stories unless it is an editorial.   Laurie Wynn of the Wasatch Wave spoke over lunch about her experience as owner for The Valley Journals.
Other seminars included "AP Style" taught by Hess, "Feature Writing" taught by Wamsley, and "Police and Courts" taught by Nate Carlisle of The Salt Lake Tribune and "A Case Study in Journalism Ethics" taught by Fisher.
All of the participants received a certificate of completion