CEU Breakaway Club leader becomes engaged after game
Sometimes, I wonder if there isn't something to the Buddhist idea of Karma. This law basically states that good things happen to those who do good, and bad happen to those who do bad. Anyone who has seen the hit TV show My Name is Earl knows what I am talking about. Let me explain why I am thinking about this.
A few weeks ago, the Sun Center had their semi-annual retreat. This is always a time where people get closer and bond, but this year it happened in an unusual way. The leaders all sat around to play a common game among 12 year olds, "Baby, if you love me smile."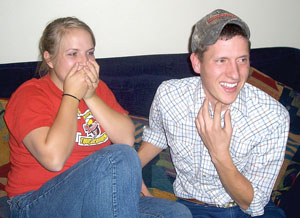 This archived article was written by: John Keetch
Sometimes, I wonder if there isn't something to the Buddhist idea of Karma. This law basically states that good things happen to those who do good, and bad happen to those who do bad. Anyone who has seen the hit TV show My Name is Earl knows what I am talking about. Let me explain why I am thinking about this.
A few weeks ago, the Sun Center had their semi-annual retreat. This is always a time where people get closer and bond, but this year it happened in an unusual way. The leaders all sat around to play a common game among 12 year olds, "Baby, if you love me smile."
For those who don't know what this game entails, one person sits on another person's lap, and says "Baby, if you love me, smile," all the while trying to cause the other one to laugh. The person who is being sat on then has to say, without cracking the slightest hint of a smile, "Sorry, baby, but I just can't smile."
The game continued on for a while, and, after a rather awkward experience between Lee Nelson and Dane Worwood, it was Lee's turn to sit on someone's lap.
He automatically chose Angie Crane, his long time girlfriend.
As he sat on her lap, he seemed unusually nervous, and soon it became evident why. Lee sat down on her lap, reached into his pocket, took something out, and said "Baby, if you love me, will you marry me?"
Angie Crane, from West Jordan, Utah, is the Vice President of Activities for the Sun Center. She is in charge of scrapbooking and photography for the Sun Center, as well as making sure that leaders are doing their projects.
At 19, she has an older sister, one younger sister, and one younger brother. She is in her second year in the Nursing Program, and is getting ready to receive her LPN designation. She likes tumbling, and her favorite movie is She's the Man, which she couldn't even think about without bursting into laughter.
Angie's pet peeve is when people have hair on their clothes, and she pulls stray hairs off random strangers in the street.
Lee Nelson is 22 years old and hails from Upalco, Utah. He is still unsure of his major, but is thinking something in Geology, because he finds rocks fascinating.
He enjoys riding his horse, Kip, who he is still trying to break, and watching movies of the John Wayne variety.
His pet peeve is very broad, encompassing many actions. He hates stupid people, and repeatedly looks at people and says "That is sooooo stupid!"
Lee is in charge of the CEU Breakaway Club, an alternative Spring Break trip. This is a national organization, and is designed to help students find the value in helping others in need. "Skip the Beer to Volunteer" has been their motto.
The club travels to different parts of the world and renders service such as building outhouses, cleaning the beach, and even building houses.
This trip is at no cost to the student, and in the past they have traveled places such as Mexico and California, and this year will be going to the Navajo Reservation to build corrals.
For Lee, being in charge of Breakaway brings back fond memories, as this is where Angie and Lee met last year. They both went on the trip, and while building outhouses in the middle of nowhere, found love. Who'd have thought it? Maybe there is something to Karma …
Anyone interested in going on this year's Breakaway trip can contact the SUN Center for more information.