Making a difference is full-time job
A new leadership position comes with new responsibilities and an elevated scope of influence for Brad King, Utah minority leader for the house of representatives.
"I have been a state representative for the past 11 years. I represent District 69, which includes two-thirds of Carbon County, the city of Green River in Emery County, about 20 percent of Grand County and all of San Juan County," said King.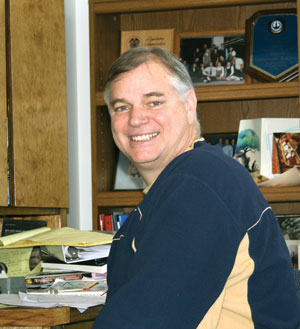 This archived article was written by: Kris Kohler
A new leadership position comes with new responsibilities and an elevated scope of influence for Brad King, Utah minority leader for the house of representatives.
"I have been a state representative for the past 11 years. I represent District 69, which includes two-thirds of Carbon County, the city of Green River in Emery County, about 20 percent of Grand County and all of San Juan County," said King.
The legislature has responsibilities over creating the state budget and passing new laws or modifying existing state laws on subjects ranging from driving laws, criminal laws, laws governing public and higher education, regulation of radioactive waste and state hunting laws.
According to King, the legislative session begins Jan. 21 and runs 45 days including weekends. The typical legislative session begins with days that are very similar to regular business days from 8 a.m. to 5 p.m. and builds until the last week when it starts at 7 a.m. and concludes at 6 or 7 p.m. The sessions usually run right up to midnight at least twice the last week. The last day of the session always closes at midnight.
"All representatives sit on three committees. Two of those committees work on laws in a specific area and the third is in charge of budget issues for a certain part of the government."
This year King will be involved in several committees. "My current committee assignments are: house transportation committee; house workforce services and community and economic development committee; and the executive offices and criminal justice appropriations committee."
Nine of King's 11 years in the legislature have been spent in leadership positions for the Democratic Party.
"The last three years I have been the minority whip which is the number-two position for the minority party," said King. "In December I was elected to be the Minority Leader for the House of Representatives.
My leadership responsibilities include planning strategy to push the Utah Democrat agenda. It also means that I sit on the executive appropriations committee which oversees the total state budget, and also on the legislative management committee which oversees the organization of the legislature."
According to King the difference between the whip position and the leader position is mostly that he will now be the contact person for the media to represent the democrat view. It also means that he will be a little more in charge of his schedule because he will be the one scheduling the caucus and leadership meetings.
WETC
The Western Energy Training Center is currently trying to find a single employee to fill the spots of recently resigned Sam Quigley and Steve Burge who held upper management positions.
"The Western Energy Training Center is a partnership between Industry, State Workforce Development and CEU. The funding for WETC originally came from a federal grant and a $200,000 appropriation from the state. This federal grant runs out in July, so the leadership at WETC is currently seeking funds from new grants and the college is trying to get on-going money from the state," said King. "Hopefully, we will be successful in obtaining funding and WETC will continue to be an important part of CEU's Workforce Development program."
Highway 6
Highway 6 is always a concern among the residents of Eastern Utah. According to King there is still allot of work to be done to make the road safer.
"Highway 6 is the most important transportation arteries for Southeast Utah.
There has been significant progress over the past 10 years but more needs to be done.
As of today, 31 of the 62 miles between Price and Spanish Fork are either three or four lanes."
The Helper Interchange is scheduled to be completed this coming spring. The next project will begin as soon as it is finished said King. The project will be a four-lane section starting at Emma Park Road at the top of Price Canyon and connect with the passing lane area leading to the Hill Top Cafe.
"There are several people working on new projects designed to boost the enrollment status of CEU," said King. "I don't think that our Spring enrollment figures will be ready for 3 weeks. We are doing a number of things to increase enrollment, including the activities at WETC, efforts in the High School Relations Office, and a new public relations campaign headed up by Todd Olsen.
CEU funding
According to King there will be several issues during this years session concerning new funding for CEU.
"The issues and funding projects that will impact CEU are the compensation package for higher education employees, the proposal for tuition increases, and higher education institutional priorities."