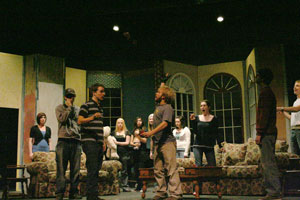 Eastern Utah Theatre has announced its next production slated for performances March 6-11, 2008. They will be presenting John Patrick's sweet comedy, The Curious Savage. "Our change in productions came about because of the recent spate of viral infections throughout the campus and city. Too many of our actors were bowing out of the show," director Grady McEvoy said. "I couldn't see doing HMS Pinafore with a skeleton crew of four sailors." The theatre department brainstormed to come up with an alternative production. It was then that McEvoy fell ill and Dr. Corey Ewan decided to direct this perennial chestnut. "I told Grady that I had always liked this show and felt we could mount in the time frame we had", Ewan said. We simply cast as many of those actors still committed to doing a show and began rehearsals on February 11th.
In a phone interview, Ewan expressed his excitement of having more than 14 rehearsals for this play. Shadowlands, Eastern Utah's last production, was rehearsed and presented in just two weeks. "We were able to perfect some things with the performances at the Utah Theatre Association Conference at BYU. We had standing room only for the two shows at the conference and were rewarded with standing ovations."
The Curious Savage tells the story of a family bound and determined to get their hands on ten million dollars left to their step-mother. They institutionalize their step-mother in order to force her to give up the money. There she meets a group of "guests" who are able, in their own way, to show Mrs. Savage what is really important in life. At the same time she is able to hoodwink her step-children into doing some very foolish things to find the money which she has hidden.
There are humorous complications, showdowns, Parcheesi, the Queen of spades, and a guest who likes to express her dislikes at crucial and surprising moments. Ewan said that he "likes the gentleness the play presents towards the guests and their genuine attitudes about life and relationships. There is an innocence found in their world." He also likes the way the cruel of the world get the comeuppance.
The cast is made up some new and old faces, including Erica Halvorsen, Daniel Thompson, Olivia Roberts, Keaton Law, Michelle Gibson, Evan Peyton, Karen Salazar, Thomas Jennings, Andy Johnson, Anita Cunninham and Elizabeth Miller.
The show runs Thursday, Feb. 28, through Monday, March 3, except Sunday. Curtain time is 7:30 p.m. Tickets are $2 for CEU students with ID card, $3 for faculty and staff, $7 General admission, $5 for high school students. This will be the final show of the season so the theatre department would like to see everyone there, Ewan said.