Peacock joins Weezer's Band for a night in SLC
On a whim, College of Eastern Utah student Brandt Peacock called the Radio from Hell guys at X96 Radio last week and auditioned over the telephone in his dorm to play in the backup band for the Weezer concert Tuesday night at the E Center.
According to Peacock's sister's blog, "His name is Jonas, not really, his name is Brandt, but he is going to be playing with Weezer in concert at the E Center on Tuesday night. And it's all because of me and his crazy music talent."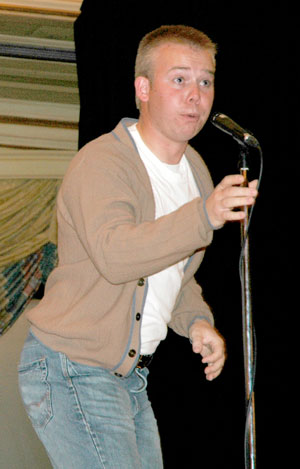 On a whim, College of Eastern Utah student Brandt Peacock called the Radio from Hell guys at X96 Radio last week and auditioned over the telephone in his dorm to play in the backup band for the Weezer concert Tuesday night at the E Center.
According to Peacock's sister's blog, "His name is Jonas, not really, his name is Brandt, but he is going to be playing with Weezer in concert at the E Center on Tuesday night. And it's all because of me and his crazy music talent."
According to Peacock's sister, Cammie Pollastro, "I was listening to X96 this morning as I was stuck in a huge traffic mess on I15. Weezer is coming in concert on Tuesday and has requested that 30 local musicians play with them on stage for one or two of their songs. I thought it sounded pretty cool, so I called Brandt. I gave him the phone number and told him about the contest. Our conversation went like this:
Cammie: Brandt, what are you doing?
Brandt: Oh, just laying in bed like an old cat.
Cammie: Do you play an acoustic bass?
Brandt: No
Cammie: Do you play a wind instrument?
Brandt: No, I just play my trumpet.
Cammie: Do you like Weezer?
Brandt: I love Weezer.
Cammie: Good enough. You HAVE to call x96 and audition for this contest. The winners get to play with Weezer in concert on Tuesday.
Brandt: OK, bye.
"Traffic finally started moving and as I approached Foothill Drive, the contest was well under way. I was wondering if Brandt was able to get through when I heard my brother on trumpet over the radio.
"Score! He totally wailed on the trumpet, won a spot to play with Weezer, scored two tickets to the concert, plus backstage passes! It was a very funny, not to mention random, way to start the day.
"And who oh who will he be giving his extra ticket to? Why, me of course! So I'll be jammin out at the Weezer concert on Tuesday night." Peacock's audition can be heard on Pollastro's blog at www.wildmeowzers.blogspot.com.
Peacock will play at least one song with Weezer plus get two tickets, rehearse with the band, and get backstage passes. "I am so excited," he quipped.
He attends CEU on a music scholarship where his favorite music genre is jazz. He has played the trumpet nine years and plans to attend the University of Utah next fall majoring in communications with an emphasis in speech.