Fifth annual HS art show showcased in Galley East
The College of Eastern Utah's art department instructors announced the winners of the Fifth Annual High School Art Competition held in Gallery East located on the northwest corner of the old SAC building in Price. Each student's work will be displayed from January 7 to 24 in the gallery which is open weekdays from 9 a.m. to 5 p.m.
An artist reception to meet the high school art students will be from 7 to 9 p.m. on Friday, January 16 in Gallery East. All artists, their families and the public are welcome to attend.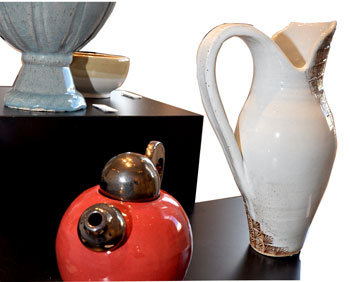 The College of Eastern Utah's art department instructors announced the winners of the Fifth Annual High School Art Competition held in Gallery East located on the northwest corner of the old SAC building in Price. Each student's work will be displayed from January 7 to 24 in the gallery which is open weekdays from 9 a.m. to 5 p.m.
An artist reception to meet the high school art students will be from 7 to 9 p.m. on Friday, January 16 in Gallery East. All artists, their families and the public are welcome to attend.
The Best of Show and a $150 check was won by Joo Yun Hyun, from Wasatch Academy in Mt. Pleasant. His work was titled "Guardian" and used conte as a medium.
First place and a $125 check was won by Meagan Roach from Carbon High School. Her work was titled "Endulge, Enlighten, Enspire" and she used watercolor and colored pencil as her medium.
Second place and a $100 check was won by Brad Peña from Canyon View High School in Cedar City. His ceramics piece was titled, "The Old Oilers."
Third place and a $75 check went to Melanie Smith from Alta High School in Salt Lake City. Her charcoal drawing was untitled.
Honorable mention and a $50 check went to Soichi Nishimoto from Wasatch Academy whose ceramic piece was titled, "Volcano."
The second honorable mention and a $50 check went to Stacey McKight from Juab High School in Nephi. Her oil and acrylic was titled, "At Home But Out of Place."
The third honorable mention and a $50 check went to Jesse Robbins from Canyon View High School. His ceramic piece was titled, "Colonel Mustard."
Gallery curator and instructor Noel Carmack was excited over the quality of work submitted by the students. "The art work was very good and worthy of being placed in the show. It's exceptional work for high school students and everyone should stop by the gallery and check it out."