"Man for All Seasons" opens Feb. 5
Robert Bolt's A Man for All Seasons opens Feb. 5 in College of Eastern Utah's Geary Theatre. The historic play takes place in 16th Century England.
It tells the story of Sir Thomas More, who defies King Henry the VIII's desire to divorce Catherine of Aragon in order to marry Anne Boleyn. This puts him at odds with the Roman Catholic Church. Thomas More's decision to stand up for his strong principles and beliefs places him at odds with the state that would have him simply "go along."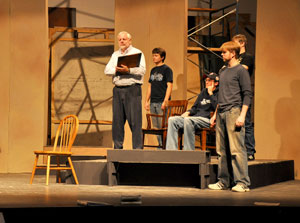 Robert Bolt's A Man for All Seasons opens Feb. 5 in College of Eastern Utah's Geary Theatre. The historic play takes place in 16th Century England.
It tells the story of Sir Thomas More, who defies King Henry the VIII's desire to divorce Catherine of Aragon in order to marry Anne Boleyn. This puts him at odds with the Roman Catholic Church. Thomas More's decision to stand up for his strong principles and beliefs places him at odds with the state that would have him simply "go along."
"Our production comes at a time when standing up for what we believe in isn't the most popular position to take," director Corey Ewan said. "We're at a point that we have to take a stand with what we believe to be right versus what is easy, to quote Dumbledore in the new Harry Potter film. I am always fascinated to see to what lengths people are willing to go to, at the risk of losing everything, to maintain their integrity. It seems today that integrity is becoming as extinct as the Dodo."
The play deals with some very heavy themes and yet there are moments of sweet comedy and tender emotions.
Eastern Utah Theatre has been fortunate to assemble a strong cast of extremely talented individuals, Ewan said. Todd Olsen, director of admissions and scholarships, is playing Sir Thomas More. He has some unique insight into playing with these ideas.
James Thompson and Rodney Scott, both teachers at Carbon High School, accepted the roles of Cardinal Wolsey and the Duke of Norfolk. Scott Westwood is playing the pivotal role of Thomas Cromwell along with Andrew Barrus as Master Richard Rich. Mitch Ewan plays King Henry VIII.
Elizabeth Miller and Sarah Jones will play the roles Lady Alice More and Lady Margaret More respectively. Casey Walker, Michael S. Johnson, Dale Flink, Will Blackburn, Randon Kerr and Nicole Manley round out the cast.
"These people have made rehearsals a blast, I'm having a great time watching and directing them. I am grateful for their willingness to play hard and to work even harder to make this a very memorable production. Rehearsals have become a type of fallout shelter from reality and boy! We need it now more than ever," says Dr. Ewan.
Production dates are February 5-10, 2009 at the Geary Theatre. Curtain time is 7:30 p.m. with the box office open at 7 p.m. so patrons have plenty of time to get tickets and get seated on time. Please join us for a production, we hope it will keep you talking and thinking about long after it has closed, Ewan said.