Livnat Alon: from Israel to America
When I joined the staff of The Eagle, I started covering women's basketball. After my first meeting with Coach Dave Paur, I found out that the College of Eastern Utah's starting point guard was Livnat Alon, a freshman from Israel. Recently, I met with Alon for an interview.
The first time I saw Alon on campus, I was a bit intimidated. She has a presence about her and seems like a very serious person. I felt a bit nervous, as I prepared for the interview. My nervousness was quickly dispelled as soon as I met her. I was put at ease by her cheerful smile and happy personality.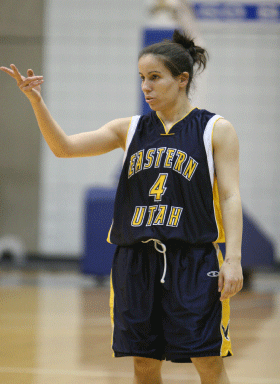 This archived article was written by: Nate Davis
When I joined the staff of The Eagle, I started covering women's basketball. After my first meeting with Coach Dave Paur, I found out that the College of Eastern Utah's starting point guard was Livnat Alon, a freshman from Israel. Recently, I met with Alon for an interview.
The first time I saw Alon on campus, I was a bit intimidated. She has a presence about her and seems like a very serious person. I felt a bit nervous, as I prepared for the interview. My nervousness was quickly dispelled as soon as I met her. I was put at ease by her cheerful smile and happy personality.
Alon, 21, grew up in Ra'anana, Israel, located in Central Israel; Ra'anana has a population of 73,100, and is known as being the home to many electronic companies in Israel. It is about 51 miles from Jerusalem. She comes from an accomplished family. Her mother is an elementary school principal, and her father is a book editor. She also has a twin brother.
She has played basketball most of her life and after junior high school, she moved to Ramat Gan about a 30-minute drive from Ra'anana, where she played high school basketball. She explained the difference between sports in Israel and America, saying people take sports more seriously in America.
Alon did not find CEU, "They found me!" she said. Paur found Alon on an online recruiting website. He said they were looking for a good point guard and saw videos of her playing in Israel. After watching the videos Paur contacted her through e-mail and she decided to come to CEU. Alon arrived in Utah in August 2008.
Paur said Alon had been in the Army before coming to CEU. When I mentioned that to Alon, she smiled and said "He likes to tell people that." In Israel, military service is compulsory, women serve two years and men serve for three years. Alon said about being in the military, "You grow up a lot." She also related her time spent in the military to the time she spends on the court.
She said that "Being an athlete is similar to being a soldier. The unit represents the team." She also said that in the military "There is no other way." You do what you're told and perfection is key. Alon's twin brother is still part of the Israeli Army.
Alon is adjusting well to living in America; she said that she learned English "mostly from TV." She has grown to love Utah, and said; that wherever she goes in America, Utah will always be her favorite state, because it was the first place she lived in the states. She said about Utah, "I love it, I love the people and I love the atmosphere." She said that her favorite thing about America is "The view, it's amazing there's so much space." She also said that she loves the diversity of America, and every state is unique.
It is the little things that make her miss Israel. She misses her mom's cooking and the beach the most. While she also misses her friends, her CEU teammates have become her close friends. Alon said since she has been here, she has only wanted to go home, once; during the 19-day Gaza War. She said it was hard to be here, and not know what was really happening, as most of her family lives in Israel.
This is Alon's first year at CEU, and she plans to finish here, then continue improving her basketball skills and play at a four-year school. She would like to play professionally, she said "If the opportunity comes along, here or in Israel, I'll be happy."