CVC visits CEU automotive center
Students from the Castle Valley Center toured the McDonald Career Center Feb. 20 where faculty and students gave short "science training" sessions.
According to automotive instructor Stan Martineau, "Our students met the CVC students in the parking lot and took them on a short 'technical' walk through the machine shop, diesel shop, welding shop and ended in the auto shop."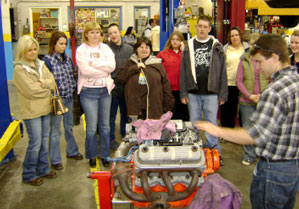 Students from the Castle Valley Center toured the McDonald Career Center Feb. 20 where faculty and students gave short "science training" sessions.
According to automotive instructor Stan Martineau, "Our students met the CVC students in the parking lot and took them on a short 'technical' walk through the machine shop, diesel shop, welding shop and ended in the auto shop."
"In the auto shop, we broke into several groups for short demonstrations of five minutes or less and rotated stations so all students could be exposed to many aspects of the automotive field. My students worked in teams of two, with five stations total. We talked about automotive case scenarios like a radiator cap raising to boiling point of fluid, spinning a tire to balance it, etc.," he said.
Martineau explained that, "this was a service project, but my students learned a lot from it." He thought his students learned some understanding and tolerance of others at the event.
The automotive Skills USA club sponsored the tour and sessions.