Miss CEU
After hours of preparation (and a year of service), Danielle Tremelling, Miss CEU 2008, gave up her title and crowned the captivating Jesi Gurney, Miss CEU 2009. During the competition, the contestants came out to show off their many talents.
Gurney performed, with vocals, Tennessee by The Wreckers on her guitar, which she says was by far the easiest part of the pageant. "I have recently been teaching myself how to play the guitar and have been playing for almost three months now, so being able to perform on stage was a big excitement for me."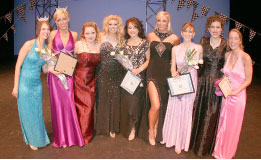 After hours of preparation (and a year of service), Danielle Tremelling, Miss CEU 2008, gave up her title and crowned the captivating Jesi Gurney, Miss CEU 2009. During the competition, the contestants came out to show off their many talents.
Gurney performed, with vocals, Tennessee by The Wreckers on her guitar, which she says was by far the easiest part of the pageant. "I have recently been teaching myself how to play the guitar and have been playing for almost three months now, so being able to perform on stage was a big excitement for me."
The women were scored according to on-stage questions, swimsuit, evening wear, talent and private interview; which according to Gurney was the hardest part of the pageant. "It is the most nerve racking,"
Gurney competed against seven other women to win the title. Her first attendant Whitney Ison gave a ballet performance to a musical piece from Romeo and Juliet; while Amy Devitt, second attendant, performed a lyrical dance to Breathe Me by Sia. The coveted Miss Congeniality award was given to Rachel Ryan, who contestants say was very sweet.
Many women gave stellar performances; from the outfits showcased by Jenny Cawley to the 101 Best Ways to Lose a Man by Danielle Martino everyone received applause.
Gurney is excited about winning Miss CEU and feels it was a dream come true. She is ecstatic about being able to broaden her platform, serve the community and compete in Miss Utah this June. Gurney's platform "Look Good, Feel Good," involves, "Going to the Bee Hive home with some girls from cosmetology and giving the ladies manicures, working with cancer patients after Chemotherapy, and going to elementary schools and educating the kids about personal hygiene and physical fitness."
She is excited to get to know everyone on campus and have the opportunity to better represent the college. Congratulations to all the ladies that competed.