Annual High School Art Exhibit opens CEU's Gallery East spring semester
The College of Eastern Utah Art Department hosts the Sixth Annual High School Art Exhibit at Gallery East on the CEU campus. Gallery East director Noel Carmack said he is pleased with the show and hopes for a strong visitor turnout from the campus and local community. "This is only my second year at CEU and I am thrilled with the work that is in the show. It really is a reflection of the enthusiasm of the students and teachers for art making in our schools."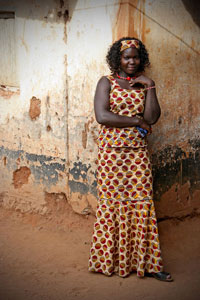 This archived article was written by: Noel Carmack
The College of Eastern Utah Art Department hosts the Sixth Annual High School Art Exhibit at Gallery East on the CEU campus. Gallery East director Noel Carmack said he is pleased with the show and hopes for a strong visitor turnout from the campus and local community. "This is only my second year at CEU and I am thrilled with the work that is in the show. It really is a reflection of the enthusiasm of the students and teachers for art making in our schools."
The exhibit features two-dimensional and three-dimensional artworks. Nearly all of the areas of the visual arts are represented. Carmack says that student participants submitted drawings, paintings, photographs, ceramic pieces, and a number of pieces of sculpture and jewelry.
"This is, perhaps, the best show of participation since we started the competition six years ago. I was really overwhelmed with the number and quality of the work submitted," he said.
Work is represented from Carbon High School, Emery High School, Helper Junior High, Pinnacle Canyon Academy, Wasatch Academy, Logan High School, Pleasant Grove High School, Panguitch High School, Juab High School, Uintah High School and Desert Hills High School.
A reception and awards ceremony will be at Gallery East on Friday, Jan. 15 from 7–9 p.m. Light refreshments will be served. Students, parents, and the public are invited to attend.
The Gallery is free and open to the public during the academic year.
Gallery East's Spring 2010 hours are:
Monday through Thursday 11 a.m. – 5 p.m., closed Fridays, Saturdays, Sundays and holidays
If you have any questions, contact Noel Carmack at 435-613-5241 or e-mail noel.carmack@ceu.edu.