Fremont pot found in Manti-La Sal National Forest
While on routine duty for the Utah Division of Wildlife Resources, Sergeant Casey Mickelsen discovered a rare object. As he was looking for illegal traps with binoculars, Mickelson spotted a Fremont pot under a rock overhang … a pot estimated to be about 1,000 years old.
Mickelsen left the pot in place, hid its location, and immediately reported his find to colleagues, who in turn contacted the Forest Service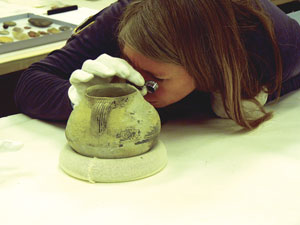 While on routine duty for the Utah Division of Wildlife Resources, Sergeant Casey Mickelsen discovered a rare object. As he was looking for illegal traps with binoculars, Mickelson spotted a Fremont pot under a rock overhang … a pot estimated to be about 1,000 years old.
Mickelsen left the pot in place, hid its location, and immediately reported his find to colleagues, who in turn contacted the Forest Service
Found in an alcove on the Manti-La Sal National Forest, the pot was recovered by Forest Archeologist, Charmaine Thompson and College of Eastern Utah Curator of Archeology, K. Renee Barlow, on Dec 18 in the snow, high up a rocky hillside.
Members of the Castle Valley Archaeological Society and other forest service personnel assisted in the recovery effort.
Thompson applauded Mickelsen for not only being professional, but also for "doing the right thing."
Archeologists can learn more about the people who left the pot behind because they can study where it was cached, how it was cached, and other accompanying artifacts. These include microscopic plant remains and other trace materials that will help scientists identify how the pot was used. If the pot had been removed prior to reporting it, all this information would have been lost, Barlow said.
The second phase of the recovery efforts will take place at the CEU Prehistoric Museum, a state and federal repository and accredited museum. Dr. Barlow said the artifact will soon be put on display for the public to see.
Sergeant Mickelsen's actions are a perfect example of the proper procedures people should take when finding such an item. Thanks to his actions, this pot will be protected and placed on display for all to see. (said who)
Additionally, it has potential plant residue inside that can prove to be of great benefit to the scientific world. At least one other artifact was cached with this object which lends even more importance to the discovery.
In an article in the Emery Progress, writer Phil Fauver believed that Barlow would display the pot in the Price museum. Then this display would be moved to the San Rafael Museum in Castle Dale at a future date.
He wrote that Barlow was excited to see the pot because there did not appear to be any cracks in it. The top edge was slightly eroded. "Dr. Barlow expects to test the clay of the pot to determine authenticity and which culture made the pot, possibly Fremont or Anasazi Indians. If she finds salt in the clay, this pot could have been made locally."
During the summer, Thompson and volunteers will conduct additional archaeological research in the area where the pot was found. Since similar pots rest on some kind of padding, Barlow thinks this pot was resting on a pad. She plans to return to the site to recover the pad later, Fauver wrote.