Fishing, hunting, camping: Grover's favorite activities
Brett S. Grover came to the College of Eastern Utah from Salem, Utah. He was born to Brad and DeAnn Grover on May 5, 1991. As a child, he enjoyed the outdoors: fishing, hunting, and camping. He also participated in football, wrestling and baseball. According to Jared Roberts, "Brett is the real deal yo."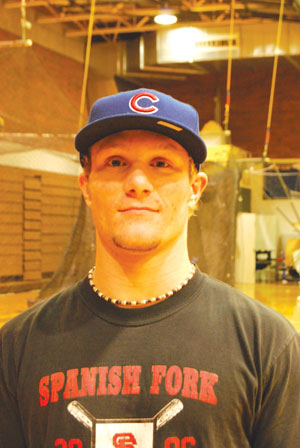 This archived article was written by: Brooke Hiatt
Brett S. Grover came to the College of Eastern Utah from Salem, Utah. He was born to Brad and DeAnn Grover on May 5, 1991. As a child, he enjoyed the outdoors: fishing, hunting, and camping. He also participated in football, wrestling and baseball. According to Jared Roberts, "Brett is the real deal yo."
Grover graduated from Spanish Fork High School in 2009 and was on wrestling, football, and baseball teams. After graduating, Grover came to CEU to play baseball and attend school. He plays centerfield and pitcher for the baseball team. His favorite class at CEU is health because it's easy and he thinks the information is interesting. Grover's favorite thing to do at CEU is to hang out and play around in the BDAC.
The wildest thing he has ever done in public was "throwing eggs at a house and then when the lady opened the door they threw the eggs inside the house." Totally illegal, surely he must feel bad about his transgression now and he doesn't support others following in his footsteps. If he could be allergic to anything, Grover says he'd like to be allergic to alcohol so he'd never be tempted.
On a more respectful note, Grover's hero is his father because he always pushes him to do the right things in life. His goals are to serve an LDS mission and then become a physical therapist.
Last but certainly not least, his favorite thing about himself is his sense of humor. You can catch Grover in February when CEU's baseball team opens their season.