Lady Eagles continue to struggle in season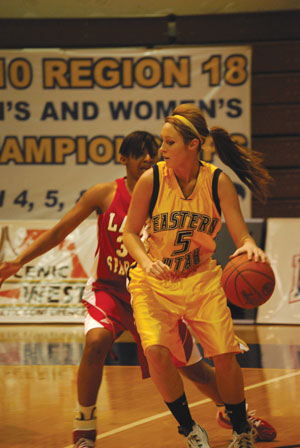 This archived article was written by: Devin Latu
Saturday's game against the Colorado Northwestern Community College Spartans (CNCC), ended exactly as expected … In a victory for the Lady Eagles. The women looked like they really had things together in Saturday's game, despite a last minute run by the Spartans.
"Right now our biggest problem is our poor shooting, nothing we can do about that, except take better shots. And we are working on that.   We can work more on our defense, and that is what we are going work on in the second half of the season," Head Coach Dave Paur commented after last week's 50 – 75 loss against North Idaho College (NIC). He also added, "Our strengths are ball handling and size. Our most dominant players right now are Kaylie [Robison] and Bruna [Deichmann]. They're our leading scorers, and Kaylie is our leading rebounder".
Saturday's home game against the CNCC Spartans was an entertaining one. The Lady Eagles managed to triumph over the Spartans for the second time this season in a 78 – 75 win. Deichmann was the leading scorer in that game with 26 points, five rebounds, and two assists. Robison had 18 points and 11 rebounds, Samara Pereira racked up 11 points, five rebounds and two assists.
That game put Colorado Northwestern Community College in last place in the SWAC (Scenic West Athletic Conference) conference standings, with a record of 0 – 12. And it puts the CEU Lady Eagles in fifth place in the SWAC conference standings, with a record of 3 – 8.
Last weekend the Lady Eagles also played two games against both number three College of Southern Idaho (CSI), and number two North Idaho College (NIC). The Lady Eagles put up a fight against CSI, but lost 54 – 65. Robison was the leading scorer of that game with 18 points and seven rebounds. Deichmann also had 14 points, three rebounds and two assists.
Two days later the Lady Eagles went head to head with NIC, but ended up losing 50 – 75. Robison was again the leading scorer with 23 points and 11 rebounds. These wins left CSI with a record of 7 – 5, and NIC with a record of 9 – 3. But the Lady Eagles didn't let those two losses get to them.
Next weekend the Lady Eagles are on the road as they face off against the Snow College Badgers on their Ephraim, Utah campus. The Lady Eagles will be playing the Badgers for the third time, and looking to avenge their 65–78 home loss to Snow College at the beginning of this month.
Snow College is ranked number four in the SWAC conference standings, with a record of 6 – 5, two of those wins against the CEU lady Eagles. So don't be lazy and make the drive to Ephraim to support our team. Besides, everybody needs a good reason for a road-trip. And for those of you (like me)who are too broke to pay for the gas to get to Ephraim, CEUSA is getting a bus to transport students to and from the Saturdays game. The bus will be leaving at 1 p.m. from the north side of the JLSC. But there is limited seating and it is on a first come first serve basis. So be there early.