The making of "1776" from scenery, costumes, lines
Exactly one month from when rehearsals began, College of Eastern Utah's Theatre Department opens its production of 1776 with a mixture of students, faculty, staff and community members making up the cast. It opens at 7:30 p.m. on Thursday, Feb. 4 in the Geary Theatre.
Written by Sherman Edwards and Peter Stone, the plot tells a "vibrant and exciting musical history lesson about the events leading up to the signing of the Declaration of Independence by the Continental Congress meeting in Philadelphia, Pennsylvania."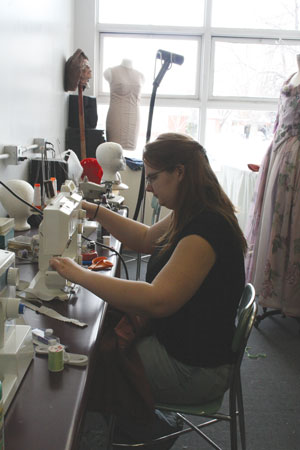 Exactly one month from when rehearsals began, College of Eastern Utah's Theatre Department opens its production of 1776 with a mixture of students, faculty, staff and community members making up the cast. It opens at 7:30 p.m. on Thursday, Feb. 4 in the Geary Theatre.
Written by Sherman Edwards and Peter Stone, the plot tells a "vibrant and exciting musical history lesson about the events leading up to the signing of the Declaration of Independence by the Continental Congress meeting in Philadelphia, Pennsylvania."
Opening on Broadway March 16, 1969, the play brings to life the debates and the compromises which would lead to the Revolutionary War and the birth of the American nation. Much of what Sherman and Stone wrote came from historic documents and letters and is historically accurate.
However, as with most historical plays, many of the events and/or characters have been compressed, omitted or combined for the sake of dramatic economy. We may recognize in our own governmental bodies, both nationally and locally, the same "piddling, twiddling and resolving" as depicted on the Geary Theatre stage and find our frustration is as old as our country.
Director Corey Ewan said, "I love plays that are timely and relevant to our day. It is interesting that the more we change the more we really stay the same. We are doomed to repeat the same mistakes because we just don't or refuse to learn from the past."
The cast, representing the Second Continental Congress of 1776, features Dave Hocanson as John Hancock; Cole Unsworth, Josiah Bartlett; Todd Olsen, "the obnoxious and disliked" John Adams; Russell Wilson pulls double duty as music director/arranger and plays Stephen Hopkins; Scott Zaborski, Lewis Morris; Kelton Wells, Robert Livingston; Russell Seeley, the Rev. Jonathan Witherspoon; Grady McEvoy, set and lighting designer and plays Benjamin Franklin; Ewan, John Dickenson; Devin R. Skinner, James Wilson; John R. Behn, the Rev. Caesar Rodney; Rodney Scott, Colonel Thomas McKean; Kamron Perkins, George Read; Bill Gibson, Samuel Chase; Willy Woodruff, CEUSA President, Richard Henry Lee; Mitchell G. Ewan, Thomas Jefferson; Ron Patterson, Joseph Hewes; Michael S. Johnson, Edward Rutledge; Scott Westwood, Dr. Lyman Hall; and Braden Nelson, Congressional Secretary Charles Thomson.
Rounding out the cast are Henry Rudolph Jr., Congressional Custodian Andrew McNair; Brian Powell, a leather apron; and Ryan Pugh, a military courier. Playing the two most important roles in the lives of John Adams and Thomas Jefferson are Rachel Ryan as Abigail Adams and Leisl Cope as Martha Jefferson.
1776 opens Feb. 4 and plays through Feb. 10. A matinee is offered on Saturday, Feb. 6, at 2 p.m. The show runs approximately two hours. Ticket prices are $7 adults; $5 seniors, non-CEU students and CEU faculty and staff; $3 CEU students with a CEU ID.