Davis says farewell to CEU Eagles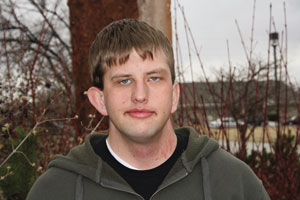 This archived article was written by: Nathan Davis
In 2005 I first came to the College of Eastern Utah. I can't remember what made me sign up to be in Susan Polster's newspaper production class. I'd never had anything I'd written published, I'd never even written for a newspaper. After two-and-a-half years of school (and two-years in a foreign country), I am writing my last article for The Eagle.
I can remember my freshman year of college, I was told by Stephen Clark that people cry twice when they come to CEU, once when they get to Price, and once when they leave. At that time, I could understand the crying when you came to Price, but the idea of crying when I would leave CEU seemed farfetched. But now, I'm feeling a little sad as I write what Polster calls my "last will and testament."

I have covered CEU sports for the two and a half years I've worked for The Eagle. I've loved doing this, it's been great. Today, I'd like to take some time and reflect upon my years here, and the state of CEU athletics. Usually, when I write columns, I try and think of something that people would be interested in and hopefully a story that hasn't been all over the news lately. I always write with my readers in mind. But not today, this one's for me, hopefully you'll still enjoy it.
First of all, I'd like to thank Polster. You've been great to me, thank you so much for being a friend, a teacher and a mentor to me. I've learned so much from you and it's been great working on the newspaper with you. You have always been someone I could talk to, even if it had nothing to do with the newspaper (as long as it wasn't during production week.)
When I told her I was planning on transferring, she suggested I look at Weber State. She introduced me to their newspaper adviser. Of all the people I've interacted with here, I'm going to miss you the most.
Next, I'd like to talk about my favorite memories from covering CEU athletics. By far the best moment I've experienced at CEU was this year's Scenic West Athletic Conference tournament. What an amazing ride! I got to sit courtside for every game and cover the tournament for the newspaper.
For most of the men's basketball home games, I was found standing with the Scream Team. Scream Team, you're a really good student section, but you could be amazing. You could make the BDAC absolutely terrifying for opposing teams. Be loud for the whole game, don't sit down just because we have a lead, be creative with your chants, have fun. Be like you were during the SWAC tournament for the entire year.
During the conference tourney, I was courtside, which was awesome, but I often found myself missing sitting with the Scream Team. Sitting with the fans, gives you a feeling that you're a part of the game and it was something I missed for most of the tournament. I said I missed it for most of the tourney because in the championship game against North Idaho College, Mike Overson, a Sun Advocate reporter and I decided, to heck with neutrality of being part of the press, we were going to cheer for CEU and we were going to cheer loud. We joined the Scream Team on their chants; we yelled at the refs, we made fun of NIC players. It was great. As the game drew to a close, we even got in an argument with a North Idaho cheerleader. As the clock expired, I rushed the court with the rest of the student body. That was one of the coolest things I've ever experienced.
I'd also like to thank Coach Chris Craig. Coach, you're hands down my favorite person to interview. While at CEU I've had to interview people who seemed as if they were avoiding me, I had to interview people who gave me the same answers every time, to the point where I would try and guess what they would say before the interview. But Coach Craig always gave great answers, he was honest.
I can remember after one game early in the year where the team didn't play well. Coach told me that they weren't ready for that game, which was his fault. I love the fact that he is willing to take the blame for his mistakes. I wish that was something done more often by CEU coaches and everywhere.
It is so impressive to me that our basketball team has been so successful. Despite budget cuts, and hard times and being a tiny school in the middle of nowhere, the CEU men's basketball team has done great things. I hope that our other athletic programs will step up, and do what needs to be done so that they can be successful as well. Usually for things to get better, personnel changes have to be made. It might be hard to make these changes, but when teams have losing seasons, over and over, it's clear to me that those changes need to be made. And most anywhere else, those changes would have been made already.
Coach Craig also gave me my favorite quote that I've heard here. A few weeks after BYU dunce Matt Hall decided that an entire University of Utah was "classless" based on a few people's actions, I got an e-mail from Craig that asked me to run any quotes his players said passed him before I put them in the newspaper, just to make sure that none of his players made any "dumbass comments." I'm not sure if he told me that because of what Hall said, but I like to think it was.
Another story that I want to tell is this. After the semi-final game of the SWAC tournament I saw Michael Glover in McDonalds. I told him he had played a great game, and he shrugged his shoulders and calmly said, "I had to." I don't know why, but I thought that moment was so cool. Glover was so calm, and relaxed about his great performance. Mike you'll do great things with your life man, I hope someday to see you on TV playing ball.
The last person I would like to mention has nothing to do with sports. My favorite professor (aside from Polster) has been Curt Icard. The first college class I ever had was Icard's English class. I can still remember him walking in a few minutes late, decked out in denim with a big ol' goatee and long hair pulled back in a pony tail. My first thought was this guy's awesome! And he was.
Icard, you're part of the reason I want to go into teaching. Thanks for everything and for heaven's sake, grow your hair out again.
I'd like to thank everyone who helped me while I was at CEU. I've learned so much and am thankful for all the professors who helped me and took an interest in my life.