Glover named to All-American team
This was a record year for the College of Eastern Utah men's basketball team. CEU performed great as a team and set new standards for the future of CEU basketball. The Eagles were led on the court by big-man Michael Glover, who was recently named a First Team All-American.
Glover, who is originally from the Bronx, New York, said that being named an All-American is a "blessing, I've come a long way. I have worked hard in the gym." He said that hard work pays off and in the end it "feels so good."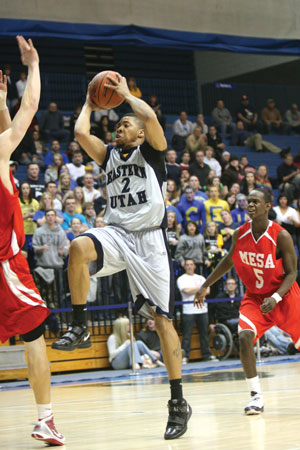 This archived article was written by: Nathan Davis
This was a record year for the College of Eastern Utah men's basketball team. CEU performed great as a team and set new standards for the future of CEU basketball. The Eagles were led on the court by big-man Michael Glover, who was recently named a First Team All-American.
Glover, who is originally from the Bronx, New York, said that being named an All-American is a "blessing, I've come a long way. I have worked hard in the gym." He said that hard work pays off and in the end it "feels so good."
This season has seen Glover dominate play and lead CEU to a 27-10 season, a Scenic West Athletic Conference title and third place in the nation. He averaged 17 points and 6.9 rebounds a game. He put up a season high 28 points in the first game of the NJCAA tournament. He was also named to the SWAC tournament MVP, and SWAC All-Conference team as well as NJCAA All-Tourney team.
One of the hard things for Glover this year has been being so far away from his family. He said that "it has been hard being far from my family especially for my son. He is depending on his father and I can't let my family down." Before he left home, he said "My family basically told me not to worry about home. The same people you left behind are going to be there when you get back, so just concentrate on academics."
Family is something that's important to Glover, he has 12 tattoos and they are all meaningful to him. He said that his favorite one is a portrait of his grandfather and his cousin who he was very close to.
Glover said that his favorite moment of this year was beating North Idaho College in the SWAC title game. He said that, "we all shared different emotions that night. I wish I could turn back the hands of time and play that moment again. I will always be there for my teammates and coaches."
Head Coach Chris Craig spoke highly of Glover saying that he "was great person to be around, he just got better and better, as a player and as a person."
While winning the SWAC was his favorite moment, he said that going to nationals was more fun. Glover said, "Going nationals I think was better. We knew all along that we were the best team in the conference; we just had to go put the work in. Everyone doubted us and thought we couldn't make it that far. We used everyone's negative energy as great motivation."
Glover said he is unsure of where he will go after CEU, but that he will "most likely attend school back home in NYC."
This has been a great year that saw CEU reach the NJCAA tournament for the first time in 45 years, and take third in the nation. Glover played a major role in the Eagles' success this season and wherever he goes next he will surely make an impact.