Eagle baseball struggles against CSN
Last weekend the College of Eastern Utah baseball team was in action against the College of Southern Nevada Coyotes. CEU hosted CSN, playing two double headers. The Eagles were unable to get a win dropping four straight games to CSN.
Head Coach Scott Madsen said of the tough Coyote team that they have "the best pitching and hitting staff that I have seen in my coaching career"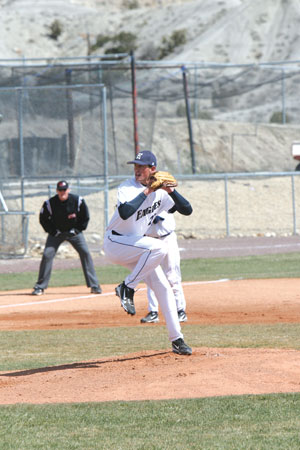 This archived article was written by: Nathan Davis
Last weekend the College of Eastern Utah baseball team was in action against the College of Southern Nevada Coyotes. CEU hosted CSN, playing two double headers. The Eagles were unable to get a win dropping four straight games to CSN.
Head Coach Scott Madsen said of the tough Coyote team that they have "the best pitching and hitting staff that I have seen in my coaching career"
In the first game on Friday, the Coyotes dominated play, and exploded for 15 hits off of CEU pitchers. Brennan Hallows got the start for CEU but wasn't able to make it out of the first inning. He gave up five hits, and five runs. The final score was 12-5.
In the second game of the double header it was much of the same for CEU. The Eagles did get better pitching though. Starting pitcher Brett Barrett went five innings, giving up eight hits. The Eagles struggled at the plate, getting four hits in the game. The final score was 13-4.
The Eagles came back the second day hoping to get a win against he tough CSN Coyotes. CEU wasn't able to manage a win. They lost by 10 runs, 13-3. Once again the CEU bats were quiet. CEU only could muster three hits in the game. Josh Swenson pitched 4.2 innings and gave up 12 runs. Swenson has played well for the Eagles this season, throwing a no-hitter, and a one-hitter already.
Madsen said that Southern Nevada is the toughest team they've played so far, and that "a lot of those kids are going to go pro."
CEU had their best performance on the second game on Saturday. They were still unable to pull out a win, but kept the score a little closer, this time losing 9-4. The Eagles were able to rack up six hits against CSN. Jake Zumbrunner was the starting pitcher for CEU. He went four innings and gave up seven runs of f of 10 hits.
With the baseball season about half way over Coach Madsen said that he still has high hopes for the team and that he is "waiting for them to get things together and do better like I know they can" While this year has been tough for the Eagles they have had some bright moments as well. Madsen said that his proudest moment of this season was "beating Western Nevada at Western Nevada, they are a really good team so I was really proud when we beat them at their home" His advice for his team is to focus on the last half of the season, he said "I just tell them that there is always a chance to win, the real season starts in the finals"
The Eagles will now take on the College of Southern Idaho who Madsen said his team matches up well against, on April 2, in Twin Falls, Idaho.