Eagles face adversity … and fly
"The first day of school I knew we had a good team," said College of Eastern Utah's head basketball Coach Chris Craig. The third place in the nation CEU Golden Eagles were better than good this year … they were scrappy, loose and had a great time beating nationally ranked teams.
"Right from the get-go I thought we had enough talent to be good, it was a question of chemistry and could we get everyone to work together," echoed first-year assistant coach Brad Barton.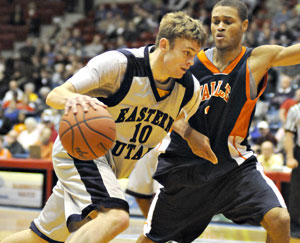 This archived article was written by: Scott Frederick
"The first day of school I knew we had a good team," said College of Eastern Utah's head basketball Coach Chris Craig. The third place in the nation CEU Golden Eagles were better than good this year … they were scrappy, loose and had a great time beating nationally ranked teams.
"Right from the get-go I thought we had enough talent to be good, it was a question of chemistry and could we get everyone to work together," echoed first-year assistant coach Brad Barton.
The feeling was shared by Jonathan Mills, "I had a sense we had something special because everyone on this team has character and everybody had one mindset, one goal … to go to Hutch and do something big."
"Every coach wants their team to peak in February and March," Craig said, and the Golden Eagles did just that, winning eight of their last nine regular season games with the only loss coming in Coeur d'Alene, Idaho, from the Cardinals of North Idaho College who were ranked sixth in the nation at the time (the Golden Eagle were ranked 25th at the same time).
I was overwhelmed by how much support we got this year from the community, administration, faculty, students … we went through times in the region tournament where we were struggling and I really think the fans pushed us over the edge. I think there were times we were struggling in the game with Mesa [CC] … I think no question the fans [helped us], heck we had more fans there than SLCC ever thought of having at a home game. It was awesome," Craig said.
In post season play, the Eagles won six of seven games with their only defeat coming from the eventual champion, Howard College Hawks in the national championship semi-final in Hutchinson, Kan.
CEU won their final tournament game earning them third place in the nation with a thrilling come-from-behind overtime victory over the Navarro College Runnin' Bulldogs. After trailing by as much as 14 points, a final possession three-pointer by Leon Sutton sent the game into overtime with the Eagles winning 65-61.
After the game, the entire team chanted "MVP … MVP," a chant being directed at Sutton for not only hitting the shot that took them into overtime … but providing the emotional lift the team needed after their heartbreaking defeat the night before.
"Leon won the [Navarro] game. Without Leon we lose that game. You're never gonna find a better person or teammate than Leon. For him to come in and take advantage of the opportunity in the biggest game of the year and put the team on his back, mentally and emotionally like that. I couldn't have been happier for a player," Craig said.
"It's gonna be a hard [loss to Howard] one for me to get over, it'll probably take a long time, I'll probably never get over it. The way we lost Friday was like someone stabbing you in the stomach and just kept twisting it around. For our guys to show up and fight the way they did Saturday was unbelievable," he continued.
"Basketball is a funny game and momentum is a powerful thing," Craig said. "If you're down as much as Howard was down to us, they are like, hey we have nothing to lose. Let's take our best shot and things start clicking and things start rolling and the team that is in front gets tight and plays not to lose instead of to win. It happened to us. Time is not well spent looking back and wishing I did this or wishing I did that."
"It was great to see our players go back there [Hutch] and compete and do well. They raised a lot of eyebrows and got a lot of respect because of how well they played and how good they were. I don't think anyone expected much from us and we were probably the smallest [student bodies] school back there," CEU Interim President Mike King said.
Women's basketball coach and athletic director Dave Paur gets a little misty when describing watching the team this year and what their season has meant to the college and community. "Following [this team] has been one of the great highlights I have had in coaching and [athletic] administration. This men's team has given life to our community. I think it's one of the best things to ever happen in years to us at a time when we needed it," he said while contemplating budget cuts to his department, the uncertainty about the Utah State University merger and the general economic slump many are feeling.
The feeling is shared by Mills, "before every home game, I would look for Coach Paur. I knew Coach Paur was watching … just him being there helped us a lot.
CEU had great starting players this year and a deep bench. Several players at each position could be counted on to keep momentum swinging CEU's way. As on many teams, there were a couple standouts on CEU's team this year.
Michael Glover blossomed into one of the best players in the country, he led the Scenic West Athletic Conference in scoring, was named SWAC Player of the Year, and an All American as well as being selected to the NJACC All-Tournament Team.
"Mike Glover's growth was easily one of the funnest things to watch this year … to watch him grow as a person and as a basketball player. He came in not believing he could be that good or not believing in hard work or whatever, it was hard at first and he batted heads with us coaches … but he bought in [and] became one of our leaders. He learned how to play hard for 40 minutes, he learned how to practice hard and as a result he is probably the best player in the country," Barton said.
Mills banged under the basket harder than anyone. With his trademark primal yell under the basket, he led the SWAC in rebounding, averaging 8.7 per game and helped the team grab an average 14.8 more rebounds than their opponents. Mills was selected to the SWAC All-Region Second Team as well as the NJACC All-Tournament Team.
"Jonathan Mills is as fun a kid as I've ever coached. [He] dived for every loose ball, [went] for every rebound, play[ed] through pain and smiled the whole time. There would be eight people going for the ball and he would swing his elbows and come up with the ball in his hands … he came up with more basketballs than anyone in the country … where the ball was is where his body was. He is a special, special rare kid," Barton said.
Isaiah Williams and Cliff Colimon got the ball downcourt and Williams knocked home threes when it counted which electrified the crowd. Nick Thompson was the blue-collar man, bringing an inside and outside scoring, assisting and rebounding threat. Tony Dalton, Vander Jorquim, Aaron Hawk-Harris and Fernando Defavari (Russo), each played crucial roles in the success of the team.
"I think so many guys did so many different things … that's how it always is on good teams. You get a few of the guys getting most of the glory but no one would have been there if it hadn't been for every single person," Craig said. "Everyone made an impact, everyone makes an impact," echoed Barton.
Craig is not one to seek the spotlight despite guiding the Golden Eagles to an overall 27-10 record this year, winning the Scenic West Athletic conference, District One and placing third in the NJCAA national championship tournament in Hutchinson, Kan. And all in his third year as head coach of the Golden Eagles.
Craig was born in St. Louis, Mo. moved to Germany with his family, before returning to the United States when he was 6. He attended high school in Phoenix, Ariz. where he played guard for Horizon High School. Then it was on to Arizona Western Jr. College before Division 1 basketball at The University of Texas El Paso. After college Craig was a player/head coach overseas for the Tralee Tigers in the Irish pro league where he led the Tigers to a national championship at the age of 23.
As a player Craig holds records at his alma mater the University of Texas El Paso where in the 2003-04 season he hit 84 three pointers and scored at least one three pointer in 28 straight games. He also helped UTEP into the NCAA tournament that season.
"I am very proud of what Chris and his players at Eastern Utah accomplished this season. It has been a long wait for the school and community to win a region title and is well deserved by all. In addition, it is an extraordinary accomplishment for a school the size of CEU to overcome the resource advantages enjoyed by some of the more populous schools in Region 18," said former CEU head coach Bryan Zollinger who attended the tournament in Kansas to support his former assistant.
Indeed with College of Southern Idaho having a $2.1 million athletic budget, North Idaho College $1.5, Salt Lake Community College $1.32 and Snow College $900,000, CEU's $500,000 doesn't seem like enough to finance a winning team of any kind, let alone in one of the toughest regions of the country.
"I couldn't be more proud of Coach Craig and Coach Paur – they managed to maximize limited resources and showed what can be done when you take care of the little things," said Kevin Walthers, former VP of finance for CEU. One of those "little things" is recruiting.
What it takes to get the best players … what it has always taken, is money. If you can give an athlete a scholarship, room and board, it is more likely your school will get better players. For better or worse, this is how it works.
With coach Zollinger leaving CEU at the beginning of the 06-07 season, [it gave] "us the opportunity to hire a new coach. [Then assistant] Coach Craig was already on campus, but he was still surprised we were going to interview him," Walthers said.
"What we didn't realize [when we hired him] was how well connected Chris was across the country. His ability to bring kids from Chicago, LA or the East Coast is phenomenal," Walthers continued.
Craig's quiet demeanor and the substantial shadow Coach Z cast must have made some people nervous giving the reins of the team to a then 25 year old very young looking Craig. Nothing doing, said Walthers, "Chris wowed Coach Paur and Coach Dan Allen with a presentation on defense – and convinced the hiring committee that he was the guy for the job."
"He's the best recruiter I've ever been around. [He has the best] work ethic, [he knows] how to talk to different types of people and I believe [he has] a broad network of coaching friends and players, but work ethic at the end of the day," Barton said.
Under his boyish good looks, Craig has an icy stare and is driven to succeed. "He never quits, he doesn't quit on kids, he doesn't quit on our ability to be better, he's very goal oriented he is very driven. I will think we had a good practice and he'll think of things we could have done better. He's very demanding. He's so motivated to be the best and driven to be the best," said Barton.
"I let the players make the goals. I'm not super big on making big picture goals Craig admits. Most of my goals are journey goals [like] being the toughest team, giving it everything you got every single day at practice, make sure you're going to class … those are more my goals. I think if you do things the right way winning takes care of itself.
I think you gotta be hard on these guys. I think you gotta push them physically, mentally, emotionally cause if you can't deal with a coach being hard on you how you gonna deal in an environment with 8,000 people screaming against you. I think team's grow through adversity, I think players grow through adversity, I think people grow through adversity so part of my philosophy is to create adversity," Craig continued.
CEU's winning record this year seems to prove Craig's philosophy and methods. It will be interesting to see if a winning CEU basketball team is a once in a 45-year event … or the beginning of something more.