KSL's Brooke Walker keynotes WC
KSL's Studio 5 co-host Brooke Walker will keynote the College of Eastern Utah's 31st annual women's conference on Friday, April 9 in the Jennifer Leavitt Student Center. The morning keynote is author and artist JoAnn Arnold. The conference begins at 9 a.m. and continues to 2:30 p.m.
Brooke Walker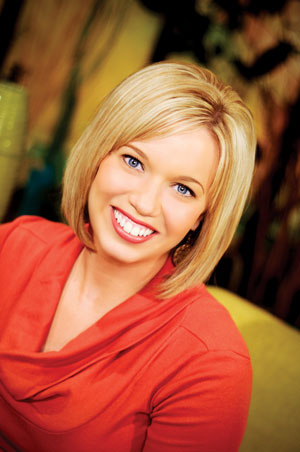 KSL's Studio 5 co-host Brooke Walker will keynote the College of Eastern Utah's 31st annual women's conference on Friday, April 9 in the Jennifer Leavitt Student Center. The morning keynote is author and artist JoAnn Arnold. The conference begins at 9 a.m. and continues to 2:30 p.m.
Brooke Walker
Walker joined Studio 5 after working in the KSL 5 Newsroom as a reporter and producer. In addition to co-hosting Studio 5 weekdays at 11 a.m. with Darin Adams, she loves to surprise the unknown heroes of the Utah community as part of KSL's weekly "High Five" segment, a series dedicated to thanking and recognizing ordinary people that do extraordinary things.
Studio 5 is produced on the premise that every woman needs a studio … someplace she can dream, plan and create.
She attended Brigham Young University, where she studied broadcast communications. Prior to her time at KSL, she worked for the public affairs department of The Church of Jesus Christ of Latter-day Saints as an associate producer.
Walker loves finding inspiration from other people's life experiences and enjoys sharing those stories with viewers. In her spare time, you can find her curled up with a good read or cashing in on quality "girl time" with her three sisters. Also high on the list: shopping, eating out, dancing and anything chocolate.
JoAnn Arnold
Arnold began her professional writing career with the book, "Miracles for Michael," a novel that evolved from a Christmas play she had written for the community theatre in Emery County. She began writing as a ghost writer of two books before she wrote and published five novels of her own.
She was born in Price and lived in Emery County many years before retiring in Santa Clara, Utah, in 2000.
Her first mystery "Journey of the Promise" was so incredibly fun to write, she said, "it was almost as if it wrote itself and I just went along for the ride." Her next mystery was "Pages from the Past" and its sequel was "The Silent Patriots."
She's always wanted to write a fantasy novel because "there are no boundaries as to where the imagination can take you." Her book, "Prince Etcheon and the Secret of the Ancient" is in the publishing stage and will be out soon.
When she is not writing, she is painting and singing with the Southern Utah Heritage Choir, searching for ancestors and traveling.
Conference workshops
Conference participants will have the opportunity to attend 10 workshops including "E-Z Budget for 2010" by Joel Hatch of Zions Womens' Financial Group; "Rave Drugs" by Danette Moynier, Castleview Hospital; "Ideal Protein: Healthy Weight Loss," Dr. Glori Allen, Castleview Hospital Emergency Room; "Grocery Shopping 101: Choosing the Best and Most Fresh" by Jim Noyes and Dave Hocanson of Fresh Market, also known as the Jim and Dave Show; "Digitally Fixing Photos with Photoshop" by Dave and Marie Bryner Bowles, Bryner Photography; "Landscape Design" by Pam Sharp, Prairie Skullputure owner/artist and landscape designer; "Women's Financial Opportunities – Taking Charge of Your Financial Future" by Anita Bruno, financial consultant; "Women's Yoga Basics" by Malarie Matsuda; "Anti-aging with Bio-Identical Hormone Replacement Therapy and Weight Loss" by Dr. Karen Radley, The Family Clinic and A Better You Med Spa; and "How to Get Your Book Published" by a panel of authors: JoAnn Arnold, Lora Akers and Sheri Mills.
Cost of the all-day conference is $20. If participants want lunch only at 1:30 p.m. and to listen to the afternoon keynote, the price is $12. The Outstanding Woman of Southeastern Utah will be announced after lunch. Registration information is on CEU's website at www.ceu.edu.