After tough losses, team gets key wins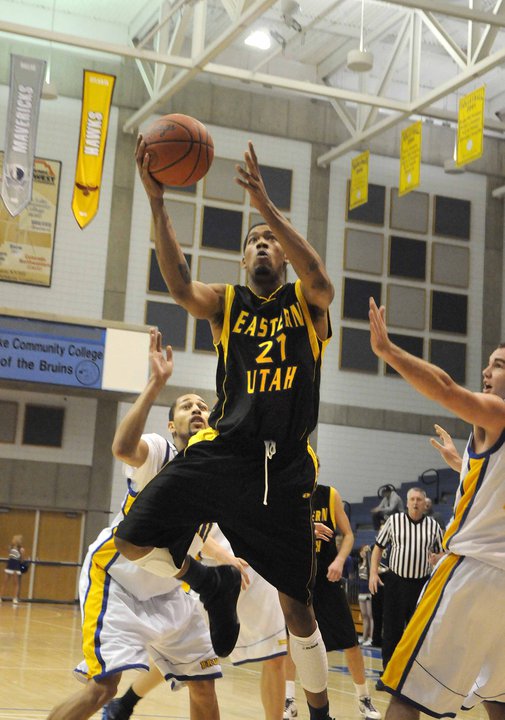 This archived article was written by: Tuna Sanford and Jordan Cunningham
The Eagles are riding a four-game winning streak after big road wins over the past two weekends. It's week seven and the Eagles have still not played a game with all their players eligible, a feat they hope to accomplish this weekend.
Two of CEU's star players were suspended the last three games for breaking team rules, and yet the Eagles still managed to turn their season around with three big conference wins over Colorado Northwestern Community College, Salt Lake Community College and Snow College. They also won a home game against Western Wyoming, a team that defeated them early in the season.
On Jan. 21, the Eagles had a towering win over CNCC 103- 49 to break them out of a three-game losing streak. James Kinney lead the team with 18 points, five assists and four steals. Trevor Bangartner and Cameron Evans followed with 14 points each. Aaron Hawk–Harris had 12 points and three assists.
CEU played Western Wyoming on Jan. 25. It was a non-conference game but the Eagles pulled out another "W." Sophomore Jimmy Bosserman was a crowd favorite, coming off the bench and with his season high in points (13), minutes (21), assists (five) and steals (two).
"Jimmy always fills his role," says head coach Brad Barton. "He is mentally tough, and can handle playing only five minutes one game and 20 the next." Maxim Zakharov also had a game, leading the team with 24 points, going six for nine from outside the arch, 11 rebounds, four assists, and three steals. Neveij Walters had 10 points and two blocked shots.
With two players suspended, CEU traveled to SLCC on Jan. 28 and beat the Bruins in a nail biter, 89-90. The physical game saw James Kinney come to play hard. He had the game high and his season high with 31 points, seven assists, three steals, and shot 77 percent, another season high.
Bryant Crowder had 16 points and his season high in rebounds with nine. Bamgartner had 14 points and six assists. Evans had 11 points and six rebounds. Coach Barton said he was pleased with the crowd turn out at the game. Everyone felt there were more CEU fans in the stands than SLCC, a school that has 30,000 students. "It's nice to be surrounded by good people."
Now on a three-game win streak, the Golden Eagles traveled to Snow and handled the Badgers a 75-63 loss to end the weekend and turn the season around. Kinney lead the team again with 16 points while Brady Hurst lead the team in rebounds with 11. About halftime with a 25-point lead, coach Barton pulled all the starters and gave the bench some time on the court. Hurst added 15 points, Walters nine points, and Bosserman 15 points.
CEU is tied for second in conference with a five and three record. They have a six and one home record, nine and four away record and three and zero neutral-court record.
The next two conference games are at home this weekend. The first is against league-leading College of Southern Idaho on Friday, Feb. 4, at 7:30 p.m. where the Eagles will try to avenage the earlier 89-80 loss to the Idaho Eagles three weeks ago. CSI leads the conference with a 7-1 record and a 21-2 overall record. They have an eight-game win streak and are 16-1 at home and 5-1 at away games.
CEU plays North Idaho College on Saturday, Feb. 5 at 5 p.m., in a rematch to avenge the humiliating 33-point loss suffered at the hands of the Cardinals recently. The 87-52 score in Coeur d'Alene was one of the worst drubbings ever for an EU team. North Idaho is four and four in conference, with a 19-4 overall record. They are 14-1 at home, 3-3 on the road, and 2-0 on a neutral court.
Coach Barton says he hopes the players come out wanting revenge against these two Idaho teams after losing to both of them in Idaho a few weeks ago. The following week the Eagles will travel to Colorado Northwestern Community College to take on the Spartans.