New year. New name. New floor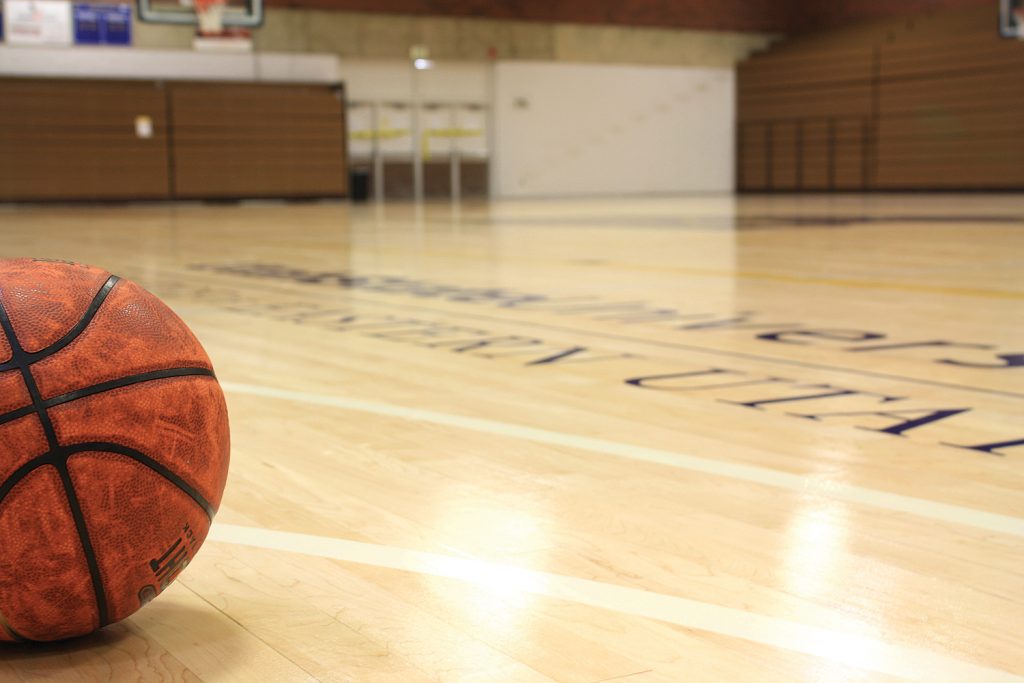 This archived article was written by: Seth Richards
The scene opens in total and utter chaos. Fans adorned in blue and gold attire wave foam fingers, people are shouting war cries across the floor, and those guys who seem to be at every campus event are painted blue and gold with a message across their bellies that is unreadable because they are standing out of order. Then, a hush falls over the crowd as the team comes into sight. They're tall, they're fast, and suddenly all five starters are missing. They forgot to jump that hole, made by too many years of use, . Many, upon seeing the new floor in the gymnasium were shocked and awed that the floor was not gold to promote school spirit, but rather as a testament to 25 years of annual refinish. Others, who had seen the change of the floor coloration over time, were likely moved to actions and words of religious gratitude. Remarkably, for an object given the status of relic, no one seemed particularly bothered by this change.
Basketball players, David Dawson and Demetrus Richarson, were moved to calling the court "Smooth" and "Gucci" respectively. While Candice Cornaby, a player on the USU Eastern women's basketball team, is just glad not to be "Slippin' and Slidin'".
This new floor was the product of favorable circumstances. When looking for a contractor to put the USU Eastern logo, created by the Logan graphic design team, Coach David Paur and Vice Chancellor Brad King, received a bid from Varsity Contractors to strip and redo the floor. Varsity, a Pocatello-based contracting company that specializes in customer satisfaction, was able to do the project for $25,000 when in the past it would have cost $60,000 or more. This bid included the logo in the middle of the floor, the full name of the school at either end of the court, and a darker finish in the three-point ring.
The project was approved by Chancellor Joe Peterson, and paid for by the operations and maintenance fund. The floor, which originally had an expected lifespan of 12 to 15 years, was then replaced after 25 years.
No, we never lost basketball players into the floor, nor was it ever a real possibility, but after a structural component to the building is classified as a campus relic, you never can tell.