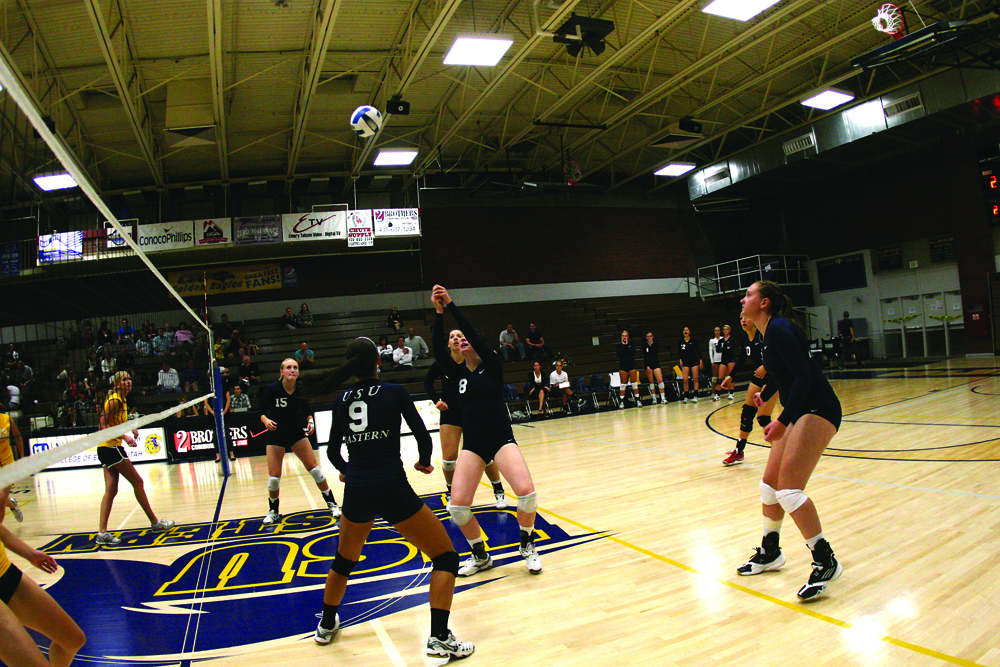 This archived article was written by: Katie Bigelow
The past few weeks have been rough at Utah State University Eastern. The USU Eastern Volleyball team rescheduled their College of North Idaho game, traveled north to the College of Southern Idaho and played Colorado Northwestern Community College in Rangley.
The team played CSI on Thursday, Oct. 6, 2011. The Lady Eagles lost in three games. They only scored an average of 13 points. CSI had a clean sweep with scores showing 25-13, 25-13, 25-15. "We didn't block, and we didn't play well," said coach Chelsey Warburton. The team had only one block in the first game and a meager three blocks in the second. CSI had roughly 11 or 12 blocks. The team struggled with their usual strengths of passing, blocking, and having good communication. "We started slow and the game stayed that way for us," commented Warburton. According to the coaches, the energy level was low for the girls.
Due to Coach Barton's funeral being on Oct. 8, the volleyball reschedule the North Idaho game to attend his memorial service.
On Saturday, Oct. 15, the Lady Eagles traveled to CNCC. They were able to put together a win. CNCC had a surprise win in the first game. "Again, our team started out slow, but we picked it up and won the next three," reminisced Warburton. The next games had the girls pulling it together for a win. "Those who were are the court started working together," commented Warburton.
The Lady Eagles have a tough couple weeks coming up. The rescheduled game against NI, for Wednesday October 19. Warburton said, "We have to play great." Over four days the team will play NI, Salt Lake Community College and Snow College. "We play great teams, so we have to have great passing, blocking, and communication. The girls will need rest because of the big games. We are going to need our bench; they will be huge," said Warburton.
The Lady Eagles are going to need support and encouragement for the tough games they play over four days.