What goes up must come down
The USU Eastern Golden Eagles are getting ready to closeout a season that has been filled with highs and lows. Although trials have come throughout the season including losing head coach Brad Barton and receiving sanctions from the NJCAA for violating rules, the team has continually put forth an effort and played with emotion. Although it has not been the best season for the Golden Eagles with a record of 4-9 in region play, they are in fifth place, with wins coming against Colorado Northwestern Community College three times and Salt Lake Community College once.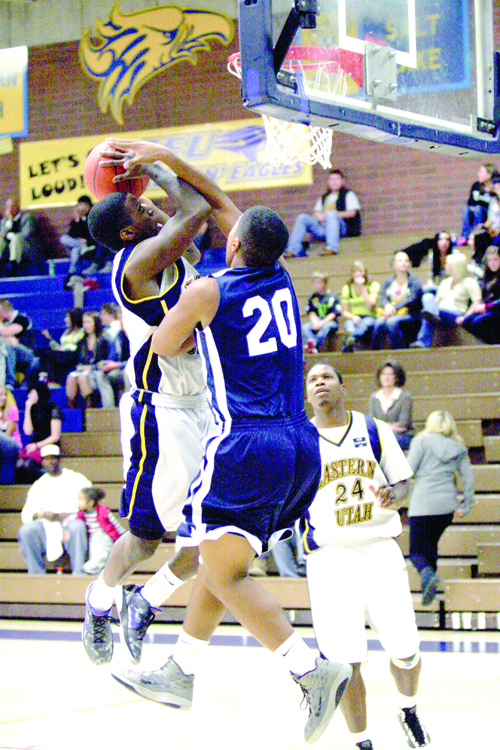 This archived article was written by: David Osborne Jr.
The USU Eastern Golden Eagles are getting ready to closeout a season that has been filled with highs and lows. Although trials have come throughout the season including losing head coach Brad Barton and receiving sanctions from the NJCAA for violating rules, the team has continually put forth an effort and played with emotion. Although it has not been the best season for the Golden Eagles with a record of 4-9 in region play, they are in fifth place, with wins coming against Colorado Northwestern Community College three times and Salt Lake Community College once.
On Feb. 17, 2012, the Golden Eagles hosted the CNCC Spartans from Rangely, Colo. After hosting Snow College and SLCC, visiting CSI and NIC and coming home with a 4-game losing streak playing CNCC, a one-win team was well deserved. The team started out hot, opening the game on an 11-0 run, then took their foot off of the gas and allowed CNCC back into the game. Head coach Brian Edelstein said, "We started out 11-0, thought the games was over and got out competed in the first half." When the buzzer sounded at half time, the Spartans led the Golden Eagles, 35-32.
When the second half started, the Golden Eagles came out re-energized and ready to compete. This time when the team put their foot on their gas they didn't take it off and continued to rack up the points. The Golden Eagles outscored the Spartans 56-29, and when the final buzzer sounded, secured the win 88-64. "We got good ball pressure, didn't give them anything easy, caused turnovers and turned those turnovers into points on our end," commented Edelstein.
Dashaun Wiggins led the attack for the Golden Eagles, scoring 23 points and bringing down 6 rebounds. Chase Flint added 9 points along with 6 assists, and Dominique Lawrence added 7 points including a monster dunk, filled up the stat sheet with 2 blocks (one landing in the bleachers) and two steals. Edelstein added, "Dom gave us really good defensive minutes and they couldn't guard Neveij [Walters] and he had 19 points. Not to mention Chase Flint, he is just Chase Flint."
On Feb. 24, USU Eastern headed up Highway 6 to pay a visit to SLCC. After having a tough time against the Bruins in their previous two meetings, the Golden Eagles seemed that they had finally figured out how to beat the Bruins and they did it Salt Lake. In the first half, the team shot 50 percent from the field, including 41 percent from beyond the arc and 88 percent from the free-throw line. Even with playing that well, the Golden Eagles found themselves down 39 to 40. "We started out slow again, down by 15 at one point, but we fought back and found ourselves only down by one at the half," said Edelstein.
The second half the Eagles continued their hot streak that finished out the first half. USU Eastern was able to finish down the stretch which has been a problem in recent weeks. The team shot even better in the second half, hitting 51 percent from the field along with going 4-10 from behind the three-point line. "We finally were able to finish down the stretch and that is a good thing," said Edelstein, "We hit our free throws, rebounded really well and got strong performances from individuals but those were really big." At the final buzzer USU Eastern found themselves on top 91-85.
The Golden Eagles had five players in double-digits and were once again led by Wiggins with 21 points going 2-3