Women show, men not allowed to go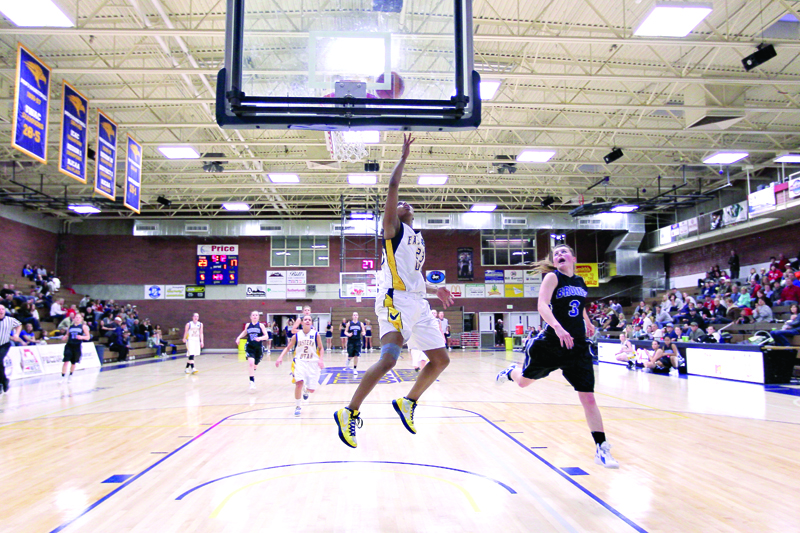 This archived article was written by: David Osborne Jr. and Katie Bigelow
The 2011-12 men's basketball season has officially closed for the USU Eastern Golden Eagles and, unfortunately, it was not as pretty as many hoped it would be at the beginning of the season with standards set high from the two-previous seasons. The team seemed to hit a vein of bad luck and it continued throughout the year including NJCAA sanctions, losing Head Coach Brad Barton, along with minor injuries that members of the team played through. All in all, expectations were to be a contender in the Scenic West Athletic Conference but with all of that stacked up the Golden Eagles came out of the season in fifth place in the region with a 4-11 record in Region 18 play and 16-13 overall.
USU Eastern started their final weekend of the season on Friday, March 2, 2012, in the Bunnell-Dmitrich Athletic Center against the College of Southern Idaho Golden Eagles. The first half was tough for the men as they only hit 8 of their 25 shots from the field for a field goal percentage sitting at 32 percent. The Golden Eagles did end some of their free-throw woes during the first half however, going 10-14. At halftime CSI and USU Eastern walked into the locker rooms with CSI leading 31-28.
Coming back after the half, the men looked energized and rejuvenated. Defense was key in the second half for the team and they held CSI to only 38 percent from the field. The defense helped the offense as well allowing the men to score 41 points in the second half, while connecting on 12 of their 31 shot attempts from the field. The woes from the charity stripe came back during the second half however and the Golden Eagles only made 66 percent, hitting 14-21. At the end of the game fans and members of the team looked up at the score board to see that they had lost to CSI 70-69. Head Coach Brian Edelstein said, "Rebounding and free throws were the difference in that game. We had 38 rebounds they had 48 and of those 10 extra rebounds 8 of them were offensive for CSI, which means extra shots."
The Golden Eagles had three players finish in double-digits against CSI. Dashaun Wiggins led the team with 21 points. Neveij Walters added 17 points to the total along with 16 rebounds. Chase Flint only put 7 points on the stat line but he did control the offense and dealt out 7 assists. "Neveij played incredible and brought down lots of rebounds even though he was undersized," commented Edelstein, "Chase was playing through illness but he came out and played hard and did a great job. Although his stat line may not show it, Dominique Lawrence came in and gave us really good defensive minutes and was able to cause some frustration for CSI on that end of the floor."
USU Eastern finished the season against the North Idaho College Cardinals. The series has been a thrilling one all season between NIC and USU Eastern going to overtime and triple-overtime in the previous two meetings and this final game was not going to be an exception.
During the first half offense was the key for both teams as they both shot over 40 percent from the field, USU Eastern with 43 percent and NIC 48 percent, and the high field goal percentages led to high scoring. At halftime the Golden Eagles and Cardinals looked up at the scoreboard to see that NIC leading 44-41. USU Eastern had a stronger showing from the free throw line as they hit 6 of 8 from the charity stripe and they were shooting well from deep hitting 9 of their 17 attempts.
The second half became a defensive battle with both teams slugging it out and shooting very low percentages and even more interesting the very same field goal percentage, 41 percent from the field. The difference was the deep ball, USU Eastern hit 5 while NIC only hit 4. When the final buzzer the game was tied at 75. Entering into overtime USU Eastern had a chance to win but couldn't quite pull it out. The Golden Eagles on hit 1 of their 6 attempted shots during overtime including going 0-3 from behind the arc and the woes from the charity stripe hit home during OT when they only hit 2 of the 6 shots that they got. NIC was more efficient during overtime and came out ahead by hitting a 3-pointer and one other shot from the field giving them the win, 80-79. "Free throws killed us, we had a chance to win at the end and we missed the late ones," remarked Edelstein.
All five of the Golden Eagle starters finished in double-digits, Flint led the offensive attack with 21 points and 5 assists. Walters once again had a strong offensive game and crashed the boards hard with 10 points and 12 rebounds. Wiggins had 17 points, Demetrus Richardson added 13 points along with 5 assists and McKay LaSalle added 10 points as well.
With the season over USU Eastern lost only three players to graduation including Walters, Richardson and Maxim Zakharov who did not play this year due to ineligibility. There is a possibility that 9 players may be returning to the Golden Eagle line-up for the 2012-13 season but like all Junior Colleges, USU Eastern has to worry about players moving up to Division-I schools and so a final number of who is returning is unclear. The Golden Eagles had two players receive awards in Region 18. Flint was named to the All Region men's basketball first team and Wiggins was named to the second team.
"I am proud of this group of men and their ability in facing adversity. They fought hard and they carried themselves with dignity and respect around campus and on the court. All of them have bright futures on and off the court," added Edelstein, "I would like to thank USU Eastern and Price, individuals and the community for stepping up and supporting our guys and showing just how much they care."
Utah State University College of Eastern Utah Lady Eagles finished of conference play 2-0 at home. On Eagle territory, USU Eastern hosted College of Southern Idaho and North Idaho College March 2-3.
College of Southern Idaho hit a three pointer in the first minute of the game and held the lead until 7 minutes left in the first half. CSI pulled a lead going into half-time 26-20.
Beginning of the second half, starter Caitlin Nelson fell hurting her knee. Eastern was down the entire second half until the last minute. Foul shoots were made by Whitney Fieldsted in the last minute, allowing a 59-56 lead for team. CSI tried a last second 3 and missed giving Eastern the win. Head Coach Dave Paur said, "That was the best weekend of women's basketball we've had here in years. It was a great weekend. I think with Caitlin going down the team stepped up." Priscila Santos had 20 point and Hailee Parry had 11. The team had a total of 53 offensive and defensive rebounds. "We've had illness and injuries, but team always stepped up."
The next day was North Idaho, who was ranked first in the Region 18 Conference. The game started off with two free throws from NIC followed behind by Lady Eagle Brooke Slade with two free-throw shots. Eastern got the lead with 15 minutes and held on until half time. The score going into half was Eastern 35 NIC 34. In the second half NIC tied the score 43-43 in the 12th minute. Abbie Kay hit two foul shots and Eastern from then on held the lead; final score was 78-68. "It was an amazing effort and a fun weekend," said Paur. Santos had 40 points with Parry 20 and Amy Arbon 10. The team had 10 steals.