"It always came easy to me"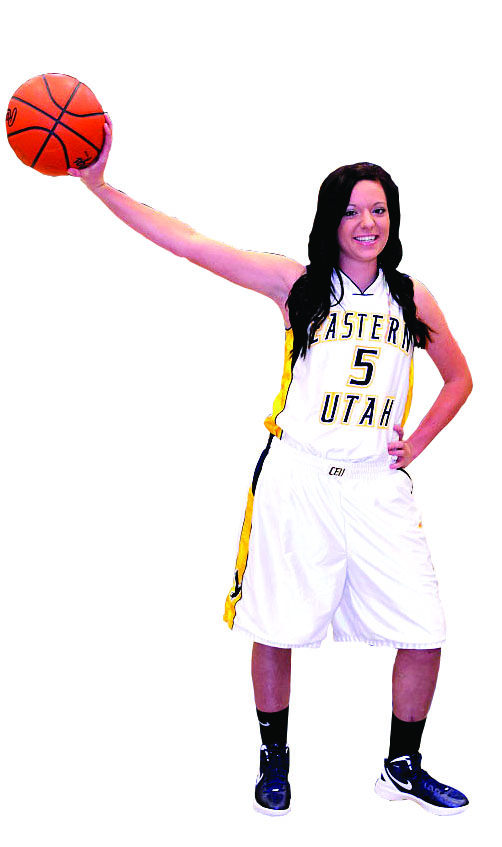 This archived article was written by: Whitney Fieldsted
This week's Eagle spotlight is on one of the freshman women's basketball players, Shantaya Strebel. She isn't to far from home here in Price, but living in a town big enough to have a Wal-Mart may have taken a little getting use to.
She was raised with her four siblings in Tabiona, Utah. Calling this a town would be an understatement; it is one of the smallest places in Utah. "It was such a great place to grow up, I was able to be involved in the community and my high school. I also had many opportunities especially in sports," Strebel said. She participated in almost every club or sports team her little 1A school had to offer. Playing volleyball, running track, being a cheerleader and a member of the drill team were all things that took up her time in her high school days.
Out of all the activities Strebel was involved in during her younger years, basketball was what she loved the most. Strebel said, "It always came easy to me." She mostly helps out on the court at the position of a forward, but occasionally she is called on to play a shooting guard. Strebel is averaging 12 minutes and 2.5 rebounds per game and is shooting 62 percent from the free-throw line.
Fellow teammate and captain Hailee Parry says, "Shan is always giving 100 percent anytime she is in the gym, staying positive and the team can always count on her."
Throughout Strebel's career her number-one supporters have been her parents. They follow her everywhere no matter how many hours they have to drive.
Strebel ended up at USU Eastern because on her visit she fell in love with the campus and everyone she met was nice and welcoming. She says the best thing about basketball and this school is winning and the amazing teammates that she has here.
Strebel said college was not everything she expected, she said, "No, not at all, it has not been as hard as I thought it would be. I wasn't sure how I was going to juggle school work, and basketball but it has been pretty easy so far." The biggest surprise to her was that there aren't many people around campus when going to classes and just hanging out on campus.
"Shantaya is a friend to everyone she meets and is a very caring person," says teammate Tandy Thackeray. Strebel's caring personality makes her an easy person to get along with and great to be around. She says the most satisfying thing she does in her life is being able to go to practice and play the sport she loves everyday.
"I never thought I would be playing college basketball," Strebel said. Luckily for her and us her dream came true and we get enjoy her on and off the court.