Four USU Eastern Phi Beta Lambda students win awards at state competition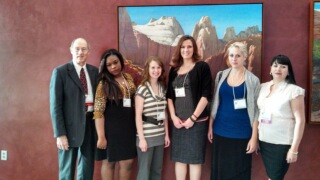 USU Eastern's Phi Beta Lambda placed four students at its state leadership competition on April 5-6 at Dixie State College in St George. Students competed in business events against the other two- and four-year colleges and universities in Utah.
Colette Marx won first a first in accounting principles and a first in business communications. Keera Allred placed third in accounting principles and seventh in business law. With these two awards in accounting principles, USU-Eastern has now placed students in the top 10 in accounting awards for the past 35-consecutive years at this PBL State Leadership Conference.
"Amazing students keep filtering through the USU-Eastern Business Department year after year," said Dr. Henning J Olsen, associate professor.
Dwaniqua Cooper placed third in sales presentation, Darcy Jaimez placed fifth in business presentations with teammate Kourtnie Maynes. Jaimz and Maynes also placed third with their business ethics team with Maynes taking fourth in business law.
Marx qualified to compete at the National PBL Competition in Anaheim, Calif., this summer.