Former Eagle, Ime Udoka, now NBA coach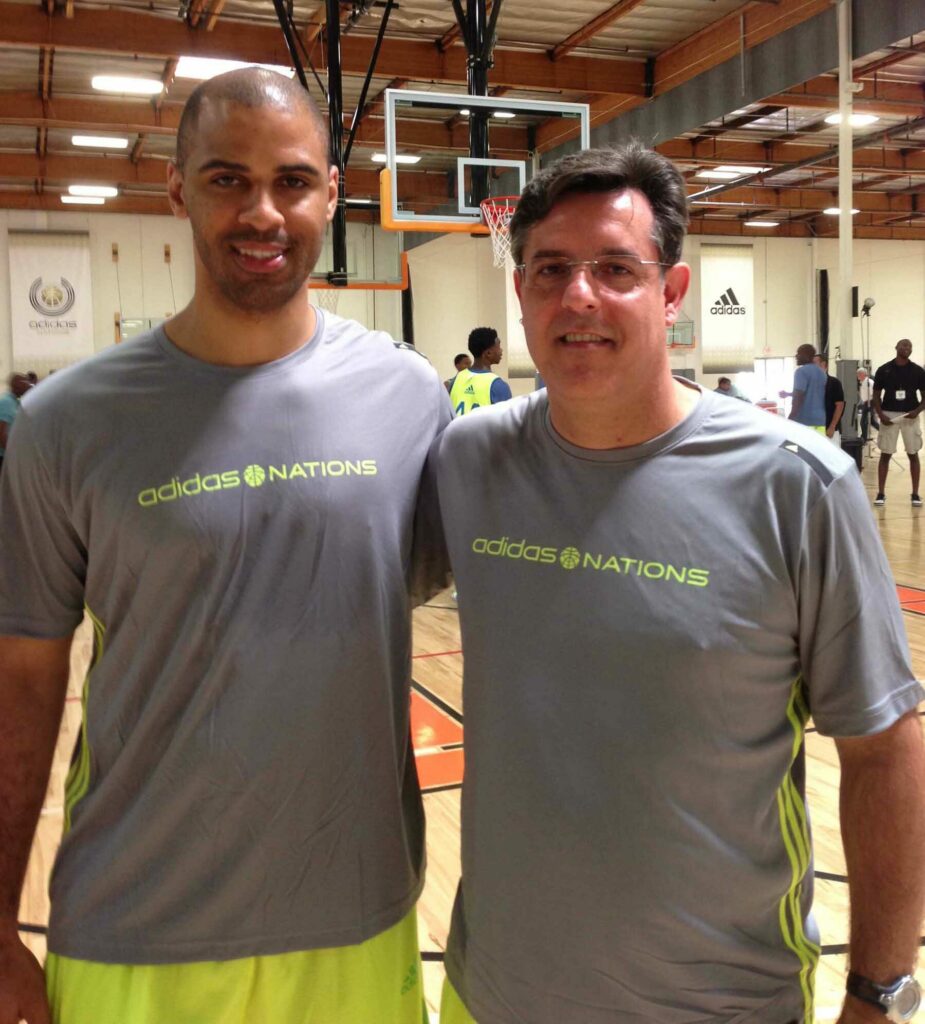 This archived article was written by: Boyd Lainhart
Ime Udoka, a former Golden Eagle "small" forward (6 feet 6 inches), has a successful career with seven years in the NBA and is now an assistant coach with the San Antonio Spurs.
Udoka's first two years of college basketball started at USU Eastern in 1995-97 where he averaged 11.8 points, 7.1 rebounds, and 3.6 assists as a freshman and 14.7 points, 6.7 rebounds, and 4.5 assists per game as a sophomore. He also recorded the first triple-double in the college's history with 25 points, 10 rebounds, and 14 assists in a game, eventually earning All-Conference honors.
He moved on to the University of San Francisco for a year, before transferring to Portland State University where he had to sit for a season before playing again, due to NCAA Division rules.
In his senior year at PSU, he earned First Team All-Big Sky honors when he led the team in scoring with 14.5, rebounding 7.3 averaged per game and 13 blocked shots and 38 steals. He was ranked ninth for scoring, third in rebounding, and fifth in steals in his conference. In that year he posted three double-doubles, narrowly missing a triple double with 14 points, a career-high 13 rebounds and 9 assists verses Cal State Northridge. He started all 22 games that he appeared in.
He made the jump to professional ball by playing a season for the Fargo-Moorhead Beez, the following year in the International Basketball Association. Two years later, Udoka was drafted into the NBADL by the Charleston Lowgators as the 39th overall pick. He played the full 2002-03 season with the Lowgators, averaging 10.3 points and 5.4 rebounds in the 50 games he played in.
The next season he finally got his NBA debut when the Las Angeles Lakers called him up in the 2003-04 season where he appeared in four games, later finishing out the season with the Lowgators ranking third in the league with scoring, averaging 16.9 points and seventh in rebounding, with 7.2 rebounds per game.
After a stint in Europe with the French ProA League, he returned to the states and was once again drafted in NBDL. This time by the Fort Worth Flyers, he was drafted third overall in the 2005 NBDL draft. He averaged 17.1 points and 6.2 rebounds per game with the Flyers.
Udoka was invited to his hometown Portland Trail Blazer's training camp before the 2006–07 season. He impressed the coaching staff there with his defense and professionalism, and made the team. Starting in all 75 games he played, he played an average of 28.6 minutes per game. Posting numbers of 8.4 points, 3.7 rebounds and 0.9 steals a game.
In 2007, Udoka signed a two-year contract with San Antonio and played in 73 games, averaging 5.8 points and 3.1 rebounds in 18 minutes. On his second season with the Spurs, Udoka played in 67 games, averaging 4.3 points and 2.8 rebounds in 15.4 minutes.
Following the 2009 season, Udoka became a free agent, eventually signing with the Sacramento Kings. He played 69 games with the Kings, averaging 3.6 points and 2.8 rebounds in 13.7 minutes.
For the 2010-11 season, he rejoined the Spurs, but after playing in 20 games he was dropped from the team. He then went back to Europe to play with the ACB League in Spain on the UCAM Merica.
The next year he got a call from his old coach from the Spurs informing him of a coaching position they'd like him to fill. Udoka accepted, leaving an offer to return to Spain and play.
"I had to decide in about two weeks," Udoka says. "It was a difficult decision, but I knew it was a great opportunity for what I want to do in the future. It just came a few years earlier than I had planned." – (Interview by Kerry Eggers)