Say Yes to the Dress: Price's Clothing Closet fundraiser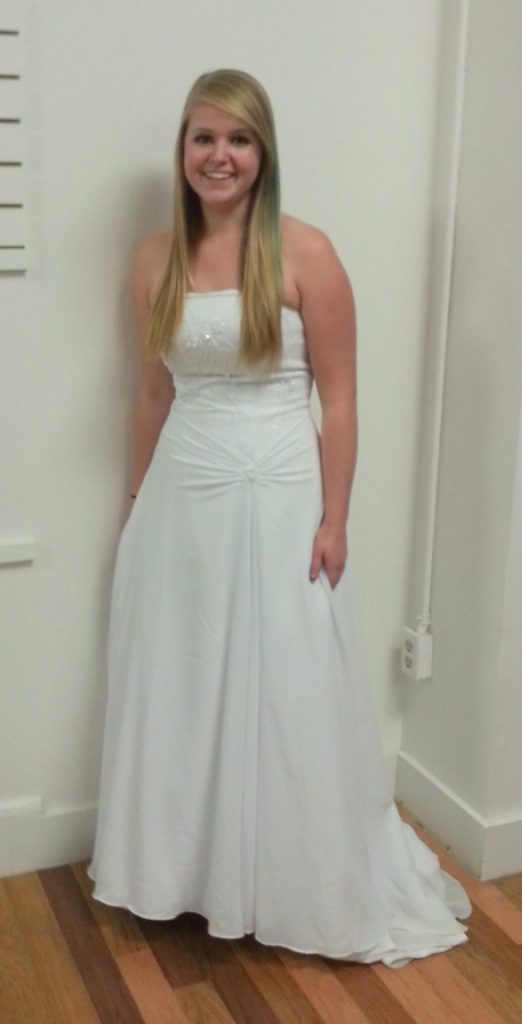 This archived article was written by: Emma Rowley
Most everyone has heard of Deseret Industries, the store that gives stuff a
second chance. But not everyone has heard of Price's Clothing Closet located
on 8 East Main Street. The Clothing Closet is a nonprofit organization that
accepts lightly worn, clean clothes. The clothes are absolutely free and patrons
are allowed 25 articles of clothing in a 15-day period. The clothing closet has
benefited countless people in the community and students on campus.
On Monday, Oct. 14, eight female students met at the Clothing Closet to
help with a fundraiser. The Clothing Closet is selling donated wedding dresses
on eBay to raise money for its operation. According to some of the students,
they had a blast trying on wedding dresses.
"Some of the dresses were pretty crazy poufy and it was hilarious trying
them on," was MaKayla Chadwick's view on the service project. One of the
dresses was a handmade dress that cost over $7,000. Paula Gibson said, "It
was fun to see all the gals trying on different wedding dresses, and to see all
the different styles they had." Some of the dresses had long sleeves, some had
short sleeves, and some had no sleeves at all.
The dresses haven't sold yet on eBay, but the Clothing Closet is expecting
offers and sales soon.
The Clothing Closet is not all about wedding dresses. There is clothing
for all weather, in every size. There are also shoes available, and coats and
jackets. Also, if you are having trouble deciding on a Halloween costume, the
Clothing Closet has a variety of interesting outfits that will work perfectly
for a costume party.
Deseret Industries is a wonderful place to find cheap clothes, but
do not forget about the Clothing Closet. Donations are appreciated and
volunteers are encouraged to help sort and hang clothes. If you are interested,
visit the SUN Center in the Jennifer Leavitt Student Center for
more information.