Baseball selects two team captains times two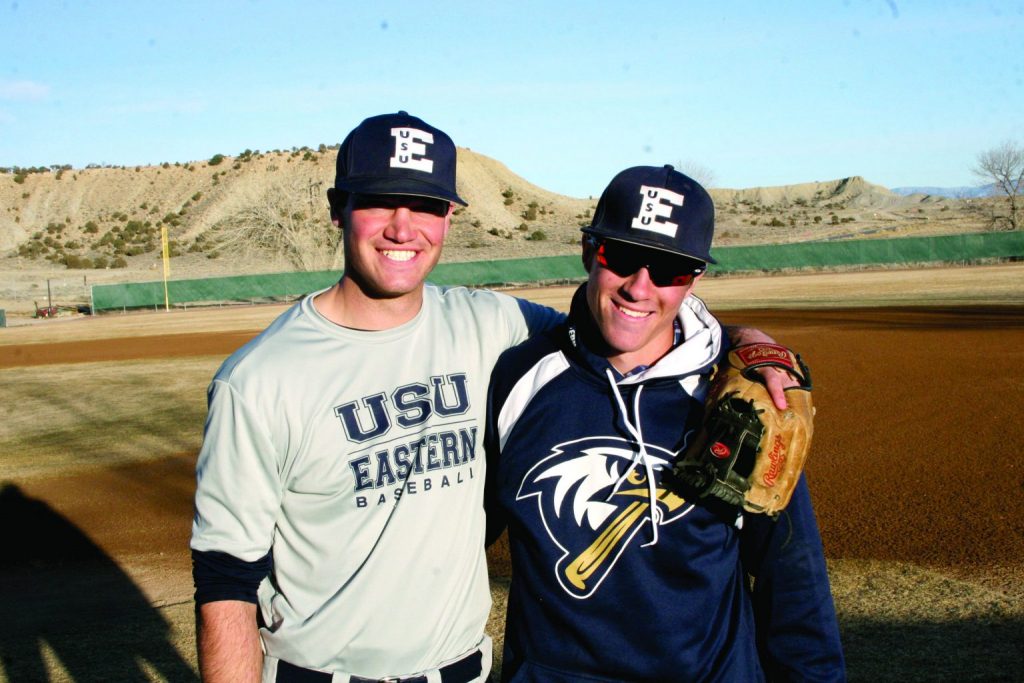 This archived article was written by: Chase Castleberry
"Baseball was, is and always will be to me the best game in the world," Babe Ruth.  A quote loved by many, especially the team captains for the Golden Eagle baseball team 2013-14. 
USU Eastern has an incredible baseball program that is filled with traditions. These traditions have allowed players to perform to their full potential. Each year, head coach Scott Madsen selects two captains for the team, one for the position players, and the other for the pitchers. Each plays an important role on the team. 
Kyle Durbin, starting shortstop for the Golden Eagles, was selected to be team captain.  As the team prepares for the season, Durbin explains, "I have high expectations this year; I'm excited to hang out with the guys on road trips and playing the season."  Durbin is one of six returning players from last year's team. "I feel the team is a little different this year. We have a lot of different players, but we have high hopes for this group of guys. I feel we have players that have potential to move onto the next level, and that's exciting this year."
Mitch Dahl, starting pitcher and pitching captain for the team this season also has high hopes, "I think we will surprise a lot of people this year. If our pitching staff can go out there and throw strikes and rely on our defense, then we will have a successful season." Dahl has high expectations for the pitching staff and feels they will be extremely successful this season.
The role of a team captain can be demanding, difficult, and challenging, but for these two, it's like a walk in the park.  Durbin explains his role as a team captain, "I don't feel any pressure because we have such a solid group and good guys on the team, we're mature.  We have a lot of respectable players." Dahl also clarifies his role by saying, "As the pitching captain, I feel a need to set a good example for the team. If I see the team not where we need to be, I feel I can encourage them to reach their full potential."
Not only should a team captain set a good example for his team, but also have a love for the game.  Both of these athletes feel this game is special. Durbin says, "I love this game and I love playing with my team. You meet lifelong friends in this program, friendships that last beyond the field." Dahl explains his love for the game, "You're not going to remember the scores or the strikeouts in the games, but you're going to remember the small moments like traveling with the team, the hotels and the memories you make."
A coach chooses team captains for specific reasons. Madsen explains why he chose these two leaders to be captains for his team. "I chose Durbin to be the team captain because he's a personal guy and gets along with everyone. He's willing to help everyone on the team. He's been around me since last year and has had a lot of meetings with me of what I expect of the team and individual players." He added, "I chose Dahl because he's an outgoing person, and kids open up to him. He is an approachable person.  He's older and he understands what I expect. He has a type of personality that you look for in a captain."
With these two leaders taking the field, the Golden Eagles are bound to have a great year making memories not only of many wins, but also of building relationships that will continue to last throughout their life. The team has a demanding schedule and a difficult task ahead of them, but with these two captains leading the team, expectations are high.