Women head to regionals next week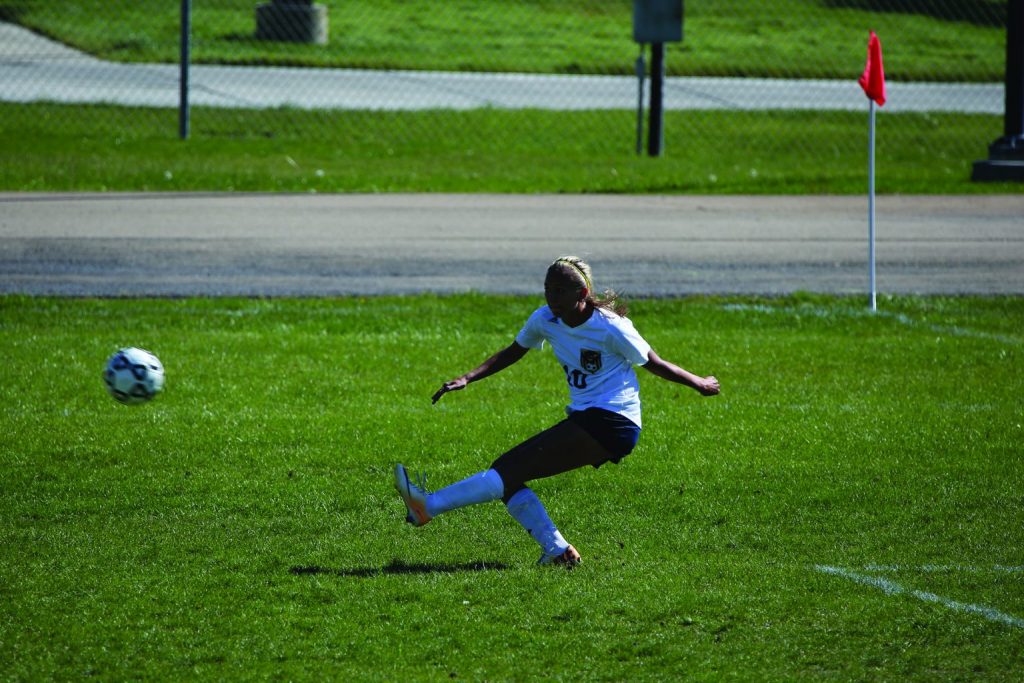 This archived article was written by: Martin Smith
Flying high into a regional spot the USU Eastern Lady Eagles played tough in Kansas and at their home field.
Traveling countless hours to Kansas to play three teams, the Lady Eagles were able to maintain a winning streak of four wins. On Oct. 16, the Lady Eagles defeated Metropolitan Community College Blue River 2-0; Cierra Golden and Jacquelyn Tagg were the only two Eagles to score.
While the Lady Eagles victories have spoken for themselves, on Oct. 17, 2014 against Johnson County, a nationally ranked team, the Lady Eagles weren't able to hold their own. They were defeated 1-0.
USU Eastern's Lady Eagles where previously ranked 18th before the tough loss against Johnson County, who slipped into the 18th ranked team in the nation by defeating the Lady Eagles.
A long way from home and exhausted from previous games, not to mention the bus ride, the Lady Eagles wouldn't let one defeat deter the determination of the entire team.
On Oct. 18, the Lady Eagles once again came out with a 1-0 win against MCC. Courtney Carpenter scored the only goal of the game.
Coach Ammon Bennett stated, "A long ways from home, we played great missing the opportunity to go 3-0, but played good for playing on the road."
The Lady Eagles returned and prepped for home games against Dakota County Tech on Oct, 22 and 23, with victories in both games 4-0. On Oct. 22, Mashaela Farris scored once, with Kelcie Geroge scoring two goals and Lindsay Bray scoring one on Wednesday's game.
The game on Oct. 23 had the Lady Eagles pumped from the win on the previous day with goals coming from Hannah Smith scoring once, Tagg twice, Josie Morris once and Carpenter once as well, bringing the Lady Eagles another victory with the final score 5-0 against DCT.
Bennett said, "Our Lady Eagles dominated the play, had an excellent offensive rhythm, which we've been working on. We are pretty pleased with the way we played."
With a dedicated team and each player pushing themselves to be better with each passing game, the Lady Eagles next game is the women's first round tournament on Nov. 7-8 where they face Laramie Community College, a team they lost to earlier in the season 1-0.
The Lady Eagles finished the season with an overall record of 14-2-2 and were previously nationally ranked. The ladies will be prepare for their upcoming playoff games and try and go for that regional title that they are dedicated to win.