Eagles defeat CNCC, Snow; lose to SLCC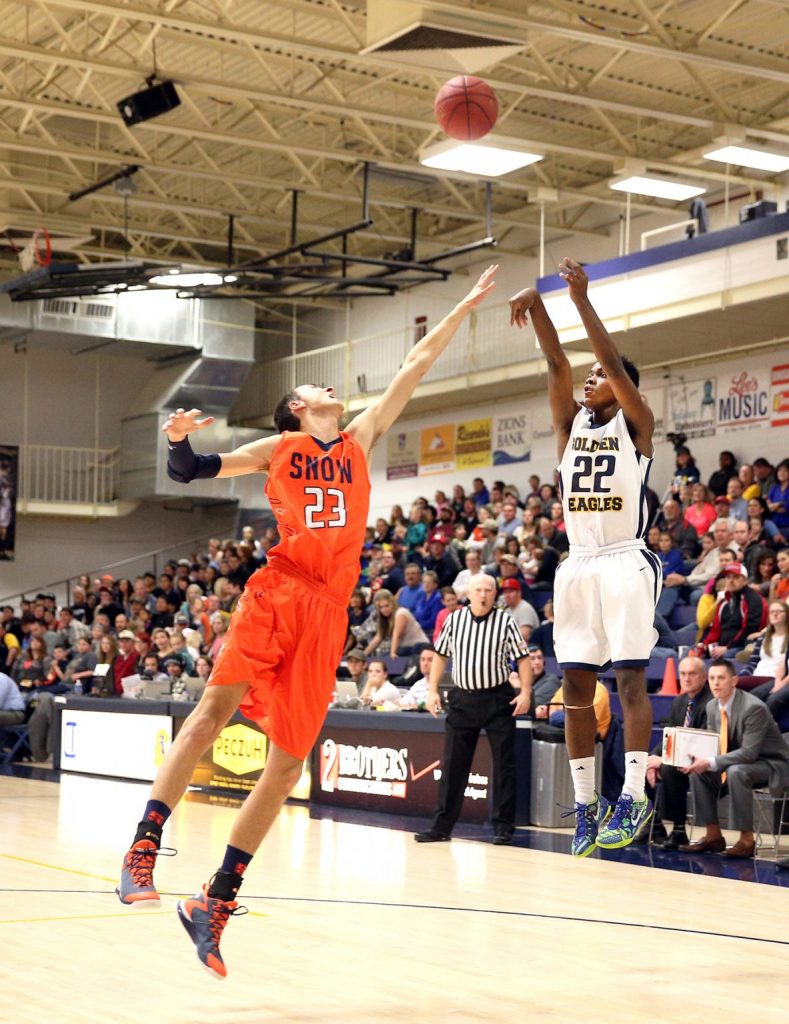 This archived article was written by: Jordan Mellen
The Utah State University Eastern men's basketball team is coming off a few key conference wins, but are looking for more. "We've been playing more aggressive and showing more energy on the court. We've been attacking and it has worked for us the past week," said Juwan Moody.
"We're going to go in playing aggressive and look for the win throughout the whole game. We're going to work to stick to the game. Play consistent the whole game," Moody said.
Colorado Northwestern Community College traveled to Price Jan. 31 to face off with the Golden Eagles, resulting in an 83-65 win for Eastern.
Leading scorers for the Golden Eagles were Josh Van Weezep with 16 points, Andre Hogan 14 points and Hamdi Karoui 11 points. Karoui led in rebounds for the night with nine, followed by Nathaniel Wright with eight and Sherman Daye with six. Phillip Winston and Brandon Sly each had five assists. As a team, USUE went 33-66 in field-goal attempts, 10-31 in three-point attempts and 7-14 in free-throw attempts.
Eastern had another home game on Feb. 5, as Snow College came to Price. The Golden Eagles had a comeback from halftime. They squeezed by with a win.
Hogan led the way for the Golden Eagle offense with 19 points, accompanied by Moody 14 points. Wright led the team in rebounds with 10, followed by Karoui and Hogan who each had six. Winston tallied up nine assists on the night. The Golden Eagles finished 26-52 in field-goal attempts, 10-22 in three-point attempts and 10-20 in free-throw attempts.
On Feb. 7 the Golden Eagles played another home game against Salt Lake Community College who hold a 22-0 record. This game ended in favor for Salt Lake as they went home with a 77-59 win. Moody was the leading scorer for the Golden Eagles with 14 points, followed by Wright's eight points, and both Marcelo Ruediguer and Daye with seven points each. Winston finished with six assists, along with Hogan's three and Daye's two. Daye led the team in rebounds with 14, followed by Ruediguer with 10. The Golden Eagles went 24-67 in field-goal attempts, 6-29 in three-point attempts and 5-10 in free-throw attempts.
The Golden Eagles are looking for three big wins in the next two weeks. The team is excited to take the energy with them on the road as they conclude regular season conference play. The team plays North Idaho Feb. 12, and two days later, Feb. 14 will play the College of Southern Idaho, ranked sixth in the country. On Feb. 21, they will travel to Colorado to play CNCC to finish up the regular season.
The next home game is the SWAC Tournament the weekend of Feb. 27-March 1 in the BDAC.