Eagles struggle in third round of region play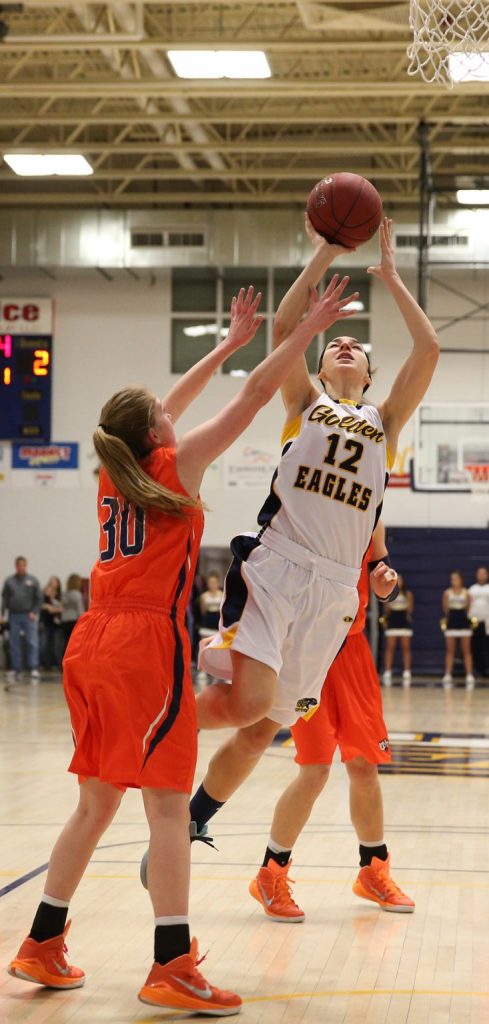 This archived article was written by: Abbie Bird
The Lady Eagles snatched another win versus Colorado Northwestern Community College on Jan. 31, but suffered two tough losses against Snow College and Salt Lake Community College as they have started the third round of Scenic West Athletic Conference play. Even though they haven't started off the way they planned, the team and coaches continue with a positive attitude as they have three more games until the region tournament begins, which will be held in the BDAC.
In the game against CNCC, sophomore Maddy Murphy led the way dropping in 16 points, helping the Eagles get their 87-55 win. Caroline Ficher also pitched in 14 points. Lejla Hadzialijagic pulled down nine rebounds, six of which were offensive and assisted in getting the team more shots off.
On Feb. 5, the Eagles started the third round of region play against long-time school rival Snow College. Eastern lost by one point in overtime, 80-79.
The game started off well for the Eagles as they shot 43 percent from the three-point line, making nine, and having an overall field-goal percentage of almost 50 percent.
At half time Eastern led by 15. In the start of the second half, they lost their composure as a team. Barbara Cousino led the team with 18 points; Jessica Anderson and Ficher both had 12. Both Cousino and Jamie Smith made critical three pointers at the ending stretch to get the team into overtime.
Head coach Dave Puar said, "When we are behind, we play better, as most of our games we have come back in the second half and won. Since we were ahead, we just coasted and weren't sure what to do, so we got nervous. You can't shoot when you are nervous. Plus Snow made a good run on us. In overtime we just made a couple of mistakes and lost. We were in a position to win. The game could have gone either way, but unfortunately we lost."
Feb. 7, Eastern battled in another tough game against the nationally ranked SLCC at No. 6. The team lost 80-70. Ficher steered the way with 26 points and eight rebounds; Cousino had 12. The game was lost in the first half; the Eagles were down by 10. In the second half, both SLCC and Eastern scored 31 points. SLCC sunk 21 points from free throws, which is a real game changer in close games. Coach Paur continues to lead his team in a positive way, and is confident his team can still perform well in these final few games. "I would like to see consistency in these final games. To be successful in the upcoming region tournament, we need three or four girls to score in double digits.
"They all need to step up. We have about six players capable of doing so, but if we can get three to four we will be hard to beat. We also need to work on stopping dribble penetration like we did in the second half versus SLCC," Paur stated.
Eastern heads to Idaho this week to take on North Idaho College on Feb. 12, and the College of Souther Idaho on Feb. 14. They will play their last region game at CNCC on Feb. 21.