Post Academy students trained on campus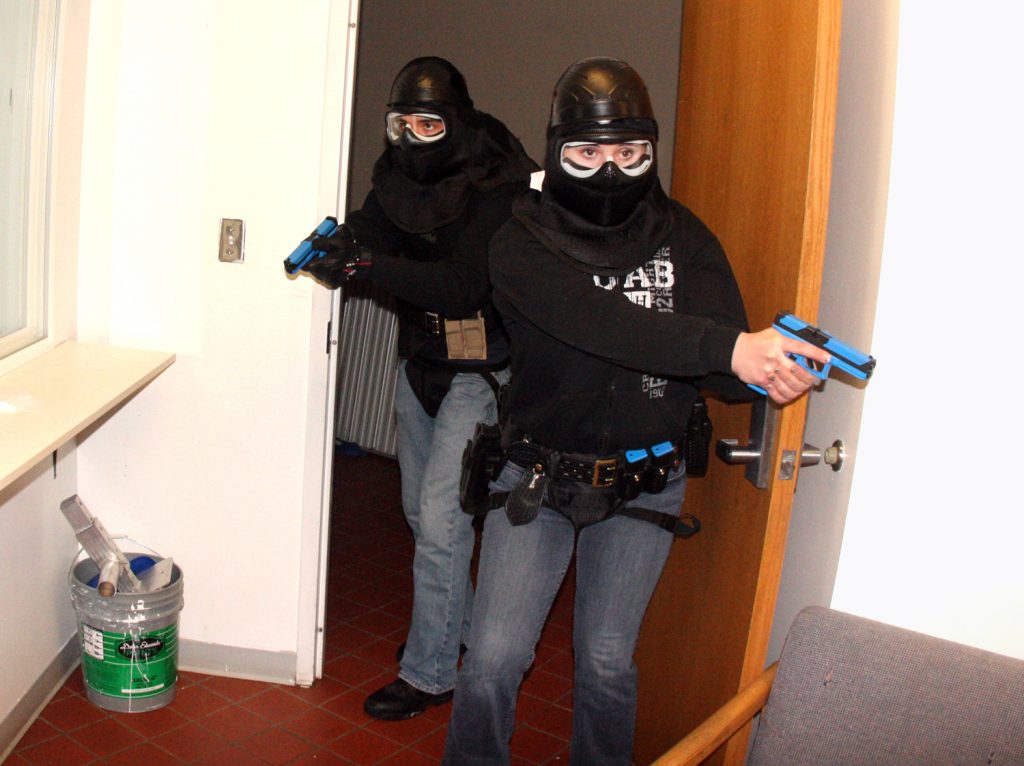 This archived article was written by: Daniel Pike
This was a Peace Officer Standard Training (POST) Academy training simulation, which is part of Utah State University Eastern's Peace Officer Academy. In this particularly exciting training simulation, the first officer on the scene needs to call for backup, prioritize, and direct fellow officers according to the needs of the scenario-which requires some technical training, and feedback from instructors.
Associate Professor of Criminal Justice and Director of the Police Academy, Scott Henrie explains, "This training module is designed to teach the officers how to stage everybody. Not everybody gets there and chases down the hall toward the bad guy. Since we've got a back door in play in this scenario, we need officers setting up a perimeter, officers at the back door, officers directing foot traffic and so on."
The purpose of this type of training is to critique the officers' performance after the simulation. According to Henrie, it is effective and efficient. "We've got two instructors on site; so while one is running a simulation, the other is critiquing. We can keep it running constantly. It works very well."
The ammunitions used in these training scenarios are "waxy" Simunition rounds; designed to be realistic, yet non-lethal. Henrie says, "The rounds we use don't sound like much when fired, but we try to make these scenarios as realistic as can be, so we use these crayon-like rounds. When it hits you, it stings, yet it's soft enough that it won't penetrate skin or injure anyone. It's good enough for us to simulate live fire during training."
Since its inception last fall, the POST Academy at USUE has trained and graduated seven corrections officers. As Director of the Police Academy, Henrie has 10 law enforcement cadets in his ranks, six of which are self-sponsored. The other four are sponsored by Carbon County's Sheriff's office.
Upon completion of the program, graduates can take their knowledge, skills, and certification to any law enforcement agency-including highway patrol, city police departments, county sheriff's departments, or corrections agencies such as Adult Probation & Parole. With Henrie, "hoping for 100 a percent placement rate," POST Academy is doing well for itself and the community it serves.
The increasingly demanding physical fitness tests have been known to be a deterrent to hopeful cadets. Henrie says, "This should be the last thing stopping a person from becoming a police officer. So what we're now doing is recruiting early and starting a physical fitness program over the summer, so those that couldn't pass the fitness test will be ready by the time they come in for the final exam. We can and will help make them ready."
With Henrie's dedication to his department and his trainees, those who commit themselves to this program are nearly guaranteed success.
Law enforcement isn't everyone's career of choice, but is extremely rewarding for those who choose to pursue it. Henrie expects all 10 of his cadets to graduate, and anticipates increased recruitment in the future. He feels that he could handle at least twenty cadets at any given time, so there are plenty of spots open. Anyone who wishes to inquire about joining Henrie's ranks can contact POST Academy on campus in the police/purchasing building, or at (435) 613-5300.