Spanish Fork natives continue to play for USU Eastern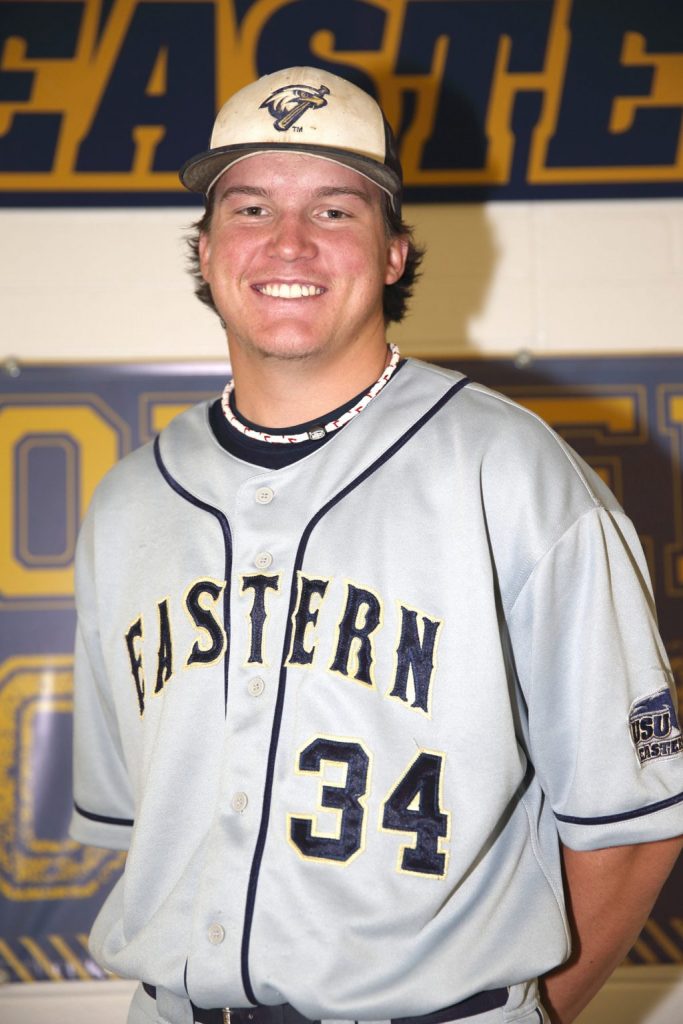 This archived article was written by: Michaella Crooks
Spanish Fork High School graduates continue to make USU Eastern's baseball grow. Cooper Beck is one of those graduates who should help the Eagles this season. Beck grew up with a family that consist of four sisters and no brothers. He is the middle child. On the men's baseball team, he pitches and is a first baseman.
When Beck is done with USU Eastern, he plans on going somewhere else and playing baseball. And after that, he wants to become a SWAT sniper.
Beck wants to sky dive off of the Eiffel tower. He lives with no regrets because he has none. He is not scared of anything unless he is in a tight space. Hobbies he enjoy include hunting, horseback riding, four wheeling, boating; basically anything to do with outdoors. He also loves music and can play the piano and guitar.
The worst date Beck has ever been on was when he went to a dance called the masquerade ball and went with a girl that was bigger and older than him. "The date was fun. Then when I went to take her home, she tried to kiss me and I just ran away."
If Beck had one day off from all his responsibilities and was given unlimited money, he would buy as many guns as he could, go shoot them all and probably go down to Henry's good deer hunting unit and shoot a big deer. Guns attract Beck. "I have been around them my whole life and it's just fun to me. It's just been a part of my life since I was a baby."
An embarrassing moment in Beck's life was when, during a football game, a kid went to tackle him and pulled his pants all the way down to his ankles. "I just went running down the field with everything around one leg and I scored a touchdown. It was embarrassing, but awesome."
It's not hard to get on Beck's bad side. "A lot of things make me mad, like in athletics. If I am giving 100 percent and someone isn't, that makes me mad. Also people talk bad about me and I have never given them a reason to."
A hero in Beck's life is his father. "He is just a really cool guy. You would have to meet him because he is one of a kind. When I watched him while growing up, he has never been scared of anything and that's a way of life. People don't have to be scared of everything, stuff is going to happen to you. You don't have to be scared."
Something that got on Beck's parent's nerves when he was younger was when he would throw rocks at his parent's windows. "There was a bee's nest in a tree by my house and I threw a rock at it. And it hit the bee's nest, but also hit my parent's window." If Beck could have any super power, he would fly.
Beck expects the team to compete. "We are playing in the SWAC, which is a tough baseball conference. One of the best in the nation. We can't be scared of anyone because we play the big schools like CSI and SLCC. You don't hear much about USU Eastern so we plan on coming out and just showing the world what's up and that we are here to compete."
The team this year is a group of great guys and competitors. "You can put them in any position and they are going to do their best and compete."
USU Eastern is a home away from home for Beck. "It's a place that you can hang out with friends and not have to worry about anything."
Beck's favorite memory so far at USU Eastern is all the bus trips with the team because it's fun to hang out and get to know the team. Last year and this year are going to be different. "Last year there were people on the team that thought they where to good to play here, but the team this year is full of people who care about the sport. They know their roll and they are fine with it and its going to be a good year.