Welding strikes two gold again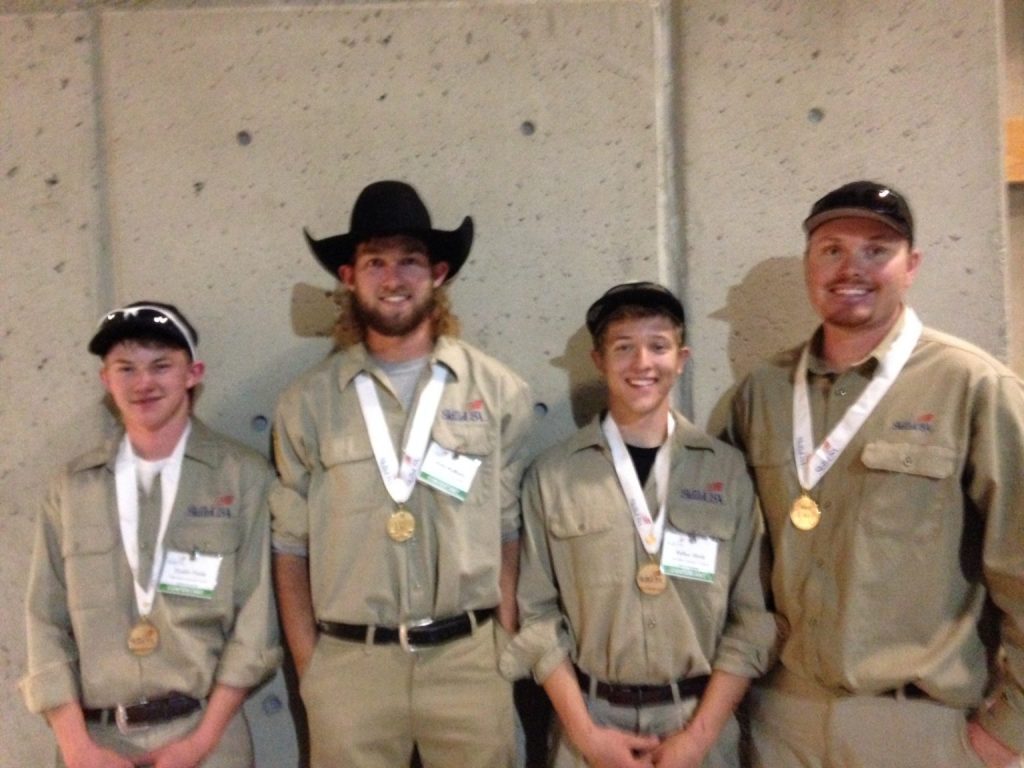 This archived article was written by:
Thirteen years and 13-straight championships for USU Eastern's welding program as they continue to bring home gold medals in the SkillsUSA program. The program won gold medals in team and individual events in a competition that pits all the colleges in Utah together.
Last weekend, the welding fabrication team of  Dustin Foote, Wellington; Kelly Kofford, Huntington; and Kellen Verdi, Helper placed first. Shawn Abrams of Price placed first in the individual welding contest.
Welding professor Lon Youngberg said,  "It is extra sweet to win both the welding and team welding fabrication contests because I did not even expect to participate in SkillsUSA this year due to the time required. 
"Last fall I told the welding students we would not be competing unless the vacant welding faculty position were filled by an instructor that was willing to take on the extra burden of coaching SkillsUSA competitors. 
"Mason Winters, a former USU Eastern welding student and former SkillsUSA national champion, was hired in January and agreed to continue our SkillsUSA legacy.  Winters and the competitors stepped up to the challenge and the results speak for themselves."
Winters added, "Our program was not going to participate in this year's competitions. Various students showed an interest in competing when I started teaching this semester, and we decided to give them a chance.
"Typical competition years begin in the fall semester where the welding program holds multiple competitions throughout the year and begin training well in advance of the state competition. This year the decision wasn't made to participate at all until February, which was one week prior to the registration deadline. I knew that both competitions would be hard to win due to the short training and preparation time that we had.
"I am proud that the students stepped up to the challenge and took the initiative to prepare for the competition on their own time. The welding fabrication team is a cohesively strong team that had to work hard and smart in order to finish their project and rightfully win the gold medal.
"The individual welding competitor (Abrams) worked hard balancing school, work, and family in order to practice and prepare for the state competition.
"His hard work and dedication proved to be worth it by continuing our long gold-medal winning streak for the competition. Although the competition was close between first and second place, Abrams worked hard to be good in all aspects of the competition, earning him the most points."
All of the competitors also have jobs in addition to being full time students and competing in SkillsUSA.
As Utah champions, the competitors are eligible to compete against other state champions at the National SkillsUSA conference held in Louisville, Ky., this summer. All of the competitors are excited to represent Utah in the National SkillsUSA Conference and can really do well as long as they all continue to work hard and strive for excellence, Winters said.